Which Foreign-Owned Carmakers Build the Most in America?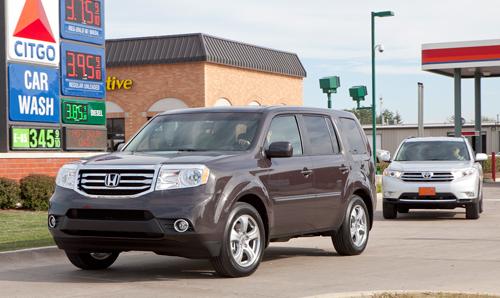 Last year, Honda built more cars at its Alabama, Indiana and Ohio facilities than it did in Japan — 826,440 versus 710,621, according to data from Automotive News and the Japan Automobile Manufacturers Association. It's the first time Honda's U.S. production topped production in its home country.
But that's a situation unique to Honda. Ten foreign-owned automakers assemble cars in the U.S., and the majority of them build most of their cars at home.
Honda never planned for things to unfold this way. Spokesman Ed Miller said the automaker "never had a goal one way or the other," but last year's natural disasters forced all automakers to slash production across Asia.
Indeed, Honda assembled some 40 percent more cars in Japan in 2010. But even then, the automaker nearly matched that figure with its U.S. production: "What we try to do is match our capacity and all the overhead that goes with it with the customer demand," Miller said. "But, you know, it's never an exact science."
It's a science that Honda's contemporaries have not felt compelled to learn. Five Japanese automakers — Toyota, Nissan, Mazda, Mitsubishi and Subaru — assemble cars in the U.S. In 2011, they built nearly 1.6 million light-duty vehicles here. That's a small figure compared to what they build in Japan. Even in the disaster-curtailed year of 2011, the five automakers built 5.7 million cars, excluding heavy-duty trucks and commercial vehicles, in their home country.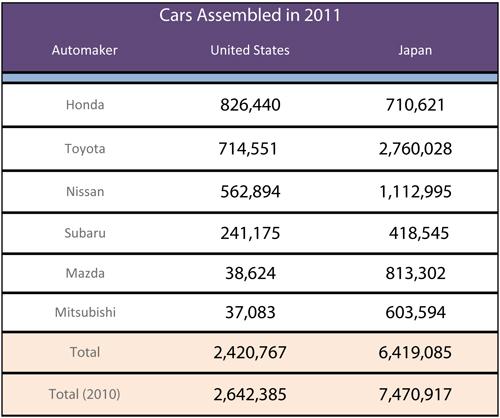 Source: Automotive News data and Japan Automobile Manufacturers Association. Figures exclude commercial vehicles and heavy-duty trucks.
Japanese automakers might build more cars in Japan, but Korean and German automakers have a wider gulf between what they build at home and what they build in the U.S. Hyundai-Kia built 624,478 cars stateside last year, versus 3.3 million in South Korea. Three German carmakers — BMW, Mercedes-Benz and Volkswagen — built 450,287 passenger vehicles stateside in 2011. Officials at those three automakers wouldn't disclose how many cars they built in Germany last year, but the German Association of the Automotive Industry estimates German automakers assembled some 5.9 million vehicles in Germany in 2011. It's a post-war all-time high for that country.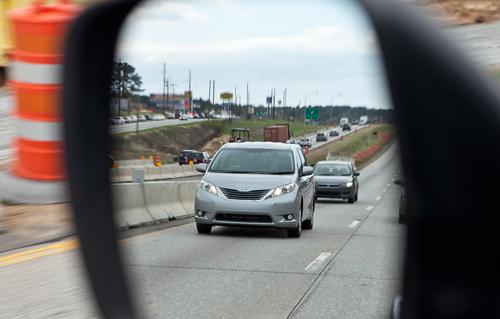 Why the difference? Part of the reason lies in market share. In 2011, Japanese brands reaped 36 percent of all U.S. new-car sales, according to Automotive News. European carmakers, by contrast, had 9.8 percent. A decade ago, Japanese brands had 28.5 percent of the market, while European brands had just 7.6 percent.
"If you're an automaker from overseas that's opening up a new market, initially, production [in that market] doesn't make sense," said Bernard Swiecki, a senior project manager at Ann Arbor, Mich.'s Center for Automotive Research. "That assembly plant doesn't make sense from a level of investment until you have a critical mass" in sales.
BMW, Mercedes and Volkswagen operate four passenger-vehicle assembly plants in the U.S., compared to a dozen plants for Japan-based automakers. The first German plant — BMW's Spartanburg, S.C., facility - opened up in 1994. By then, Honda's Marysville, Ohio, facility had been churning out Accords and Civics for 12 years.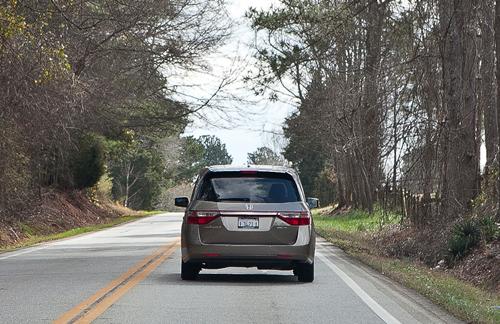 European brands have been in the U.S. for decades, but low sales have limited higher production — so even the cars that are sold here are largely imported. Japanese auto production, in contrast, generally follows U.S. sales. William Duncan, who heads JAMA's U.S. office, noted that Japanese automakers assemble close to 70 percent of the vehicles they sell in the U.S. in North America. That production ratio has been relatively constant, ranging from 62 to 68 percent over the past 15 years, JAMA says. That beats European and Korean carmakers, but it falls short of Detroit automakers, who build nearly all the vehicles they sell in the U.S. in North America. There's certainly little aversion to producing here.
"Producing in one region and selling in another is not always the best approach, when taking into consideration supply lines, shipping costs, differing regulatory standards and — particularly — consumer preferences," Duncan said. " 'Investing where the market is' appears to be a common, but not exclusive, strategy for most of the world's auto companies."
This story is part of a joint series about automotive manufacturing in the U.S. by Cars.com and USA Today.