Your Family Car is a Volkswagen Jetta?!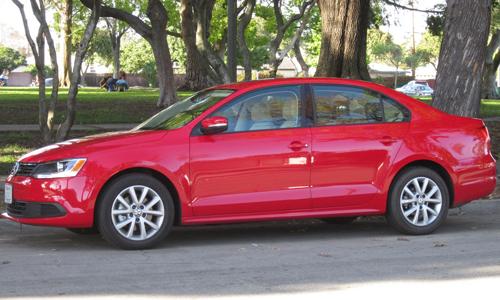 I have a baby. I carpool a lot with other moms who have babies. I have two rear-facing child-safety seats installed in my car the majority of the time, and I just got a new
2012 Volkswagen Jetta
.
You may not have seen it atop any family-car lists lately, but the Jetta has a family-friendly secret that's about to get out: The backseat is big.
It's bigger than every other compact sedan on the market (in terms of rear legroom), and it's big enough that it doesn't feel like a small sedan at all. It even fits rear-facing child-safety seats comfortably, and my adult co-pilots don't feel cramped with their knees in the dash when riding shotgun, either.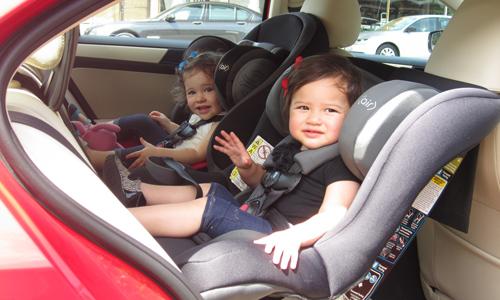 If I had a dime for all the times I've heard, "But you have a baby! How do you fit all that stuff in a Jetta?" over the last month, I'd be able to upgrade to the highest SEL trim level. But truth be told, we took everything we haul around on a day-to-day basis with us to the VW dealership, installed my daughter's safety seat inside the Jetta and made sure the stroller fit in the trunk (also largest in the class) before we even drove off the lot on our test drive. Families shopping for a new car should do the same. It's the best advice I could give to any family looking for their next car.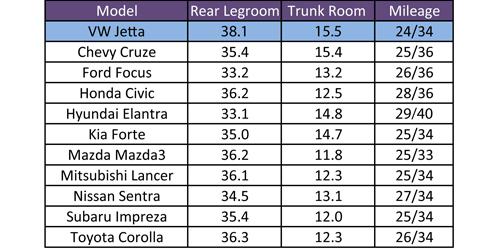 Like many families, we were trying to "downsize" by lowering our monthly car payment and reducing fuel costs. I was driving an SUV that required premium gasoline and just the trips to the gas station were giving my husband and me ulcers. We had five cars on our list, but the Jetta joined the family because not only was it relatively fuel efficient and practical, but it looked good and felt fun to drive. Other contenders felt "cheap" to me, lacked a little character or they were just too small inside.
In addition to doing the happy dance at the gas station and being able to take a fellow momma and baby friend along for the ride, there's plenty more keeping me happy about my Jetta purchase. The leatherette interior holds up extremely well to scuffs and spills. The interior's Cornsilk Beige color disguises crumbs until I gather my resolve for clean-up duty.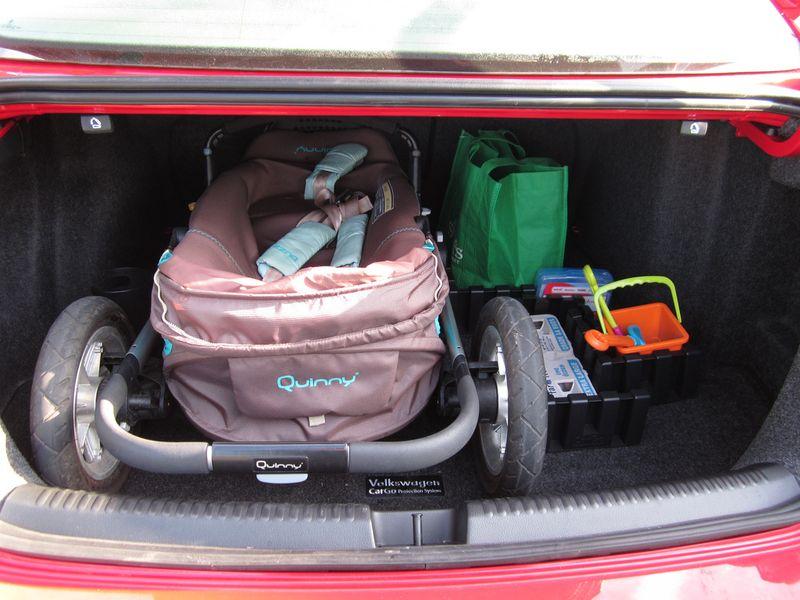 I'm also in love with VW's CarGo system, which are plastic blocks with Velcro on the bottom that allow you to configure a variety of storage combinations in the trunk. I can anchor them to form the perfect spot for my stroller so it doesn't shift around, and I position them around my grocery bags to keep eggs from sliding and canned goods from falling out of the bag and rolling around.
But truly, that we were able to overcome the challenge of fitting rear-facing car seats in a smaller, more efficient car without having to sacrifice convenience or comfort, is what makes the Jetta such a rewarding find for our family.