Dream Catcher or Air Freshener: What Hangs From Your Rearview Mirror?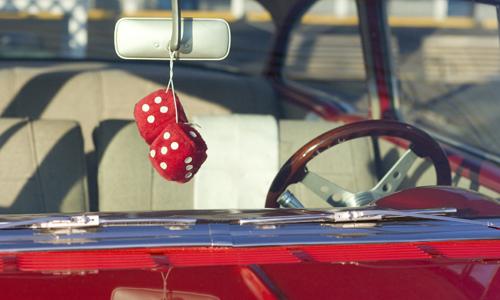 I've never been one of those people who dangle items from their rearview mirrors. While the law differs from state to state, in Colorado, where I live, having an item dangle from your rearview mirror can be considered an "obstruction of the driver's required view," according to a local police sergeant. It can be grounds for being pulled over and getting a ticket.
I've never felt the urge to assert my individuality from my rearview mirror, but the threat of a fine is added incentive to keep the view out my windshield free and clear.
In my state, it seems the majority of drivers is unaware of this law, which also pertains to mounting a navigation system on your dash or even having a broken or cracked windshield or front side windows. I've been keeping track of the items I've seen hanging from rearview mirrors over the past few weeks and have come up with an eccentric list:
Hello Kitty figurine
Crocheted heart
Cross and prayer beads
Mini disco ball
Handcuffs (regular metal variety as well as the pink, fuzzy kind)
Mexican flag
Graduation tassels
Bridal garter
Dream catcher
Crystals
Fuzzy dice
Work ID
Glow-stick jewelry
Cardboard air freshener
Baby shoe
Plastic football helmet
What do you have hanging from your rearview mirror (or from your "friend's" rearview mirror if you prefer not to publicly announce that you're breaking the law ... breaking the law)? Tell us in the comment section below.
Related
More Automotive News on Cars.com
More Family News on Cars.com
More Auto Industry News on Cars.com