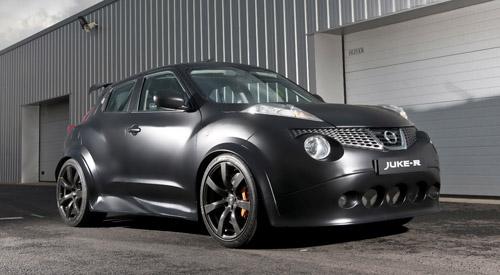 When Nissan unveiled its Juke-R concept last January in Dubai, the automaker said a production version of the hand-built, performance-tuned crossover would never see the light of day. According to Nissan's official
Juke Facebook page
, however, the automaker changed its mind.
The concept was created by Nissan Technical Centre Europe and built by race team RML from scratch in 22 weeks. Nissan calls the 485-horsepower compact crossover a fusion of the Juke and GT-R sports car. It did zero to 62 mph in 3.7 seconds and had a top speed of a 160 mph.
The production version will borrow the 2012 GT-R's 530-hp, turbocharged 3.8-liter V-6 engine, which is a lot faster than the already-snappy production-model Jukes, which use a 188-hp, turbocharged 1.6-liter four-cylinder.
But don't get too excited. It looks like Nissan is only giving European customers the chance to order one of the souped-up limited-edition Jukes, and it's not talking prices yet. "The Juke-R you dream about is available on a build-to-order limited run basis. Serious buyers can email Juke-R@Nissan.co.uk," the automaker said on the Juke's Facebook page.
It's not likely to be offered in the U.S., as Juke sales here are down 8% so far this year compared with a year ago.
Watch Nissan's Juke-R video below: