Three's a Crowd: Car Tips When Kid No. 3 Is On the Way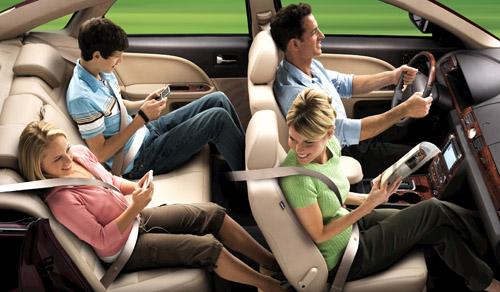 You've just learned your family is expanding and Baby No. 3 is on the way. You have all of the gear thanks to those first two offspring. You know what you're doing as a parent (relatively speaking), so rookie jitters about changing diapers, how delicately to hold a newborn and who takes first watch are absent. You're a pro at this point so you can bask in the joy and expectation.
Then you realize that your current car might not fit three child-safety seats. Now it's time to panic.
Fear not. I've been there and am here to help.
When pregnant with my third child, I exuded nothing but joy until I realized that a 2005 Volkswagen Jetta was not a workable family car with three children in safety seats.
I'm not going to tell you that life with three kids is easy. Quite frankly, having three young children is one big, love-filled and chaotic blur. However, finding a car to fit three young children is easy. Just approach the process early and with calm rationality because when that third kid comes along, you won't have time to be calm, early or rational again until someone moves out.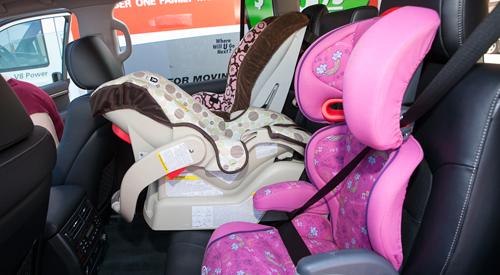 Here are my tips for those readying for baby No. 3:
Get your third child-safety seat as soon as possible: Try to fit it and your other two car seats across your current car's second row. Depending on the car seats you're using and the car you have, you may be able to do this. If so, stop reading this article and slide back into the "I've got this covered" arrogance that a parent expecting a third child is entitled to. If not, continue reading.
Measure your garage: Not all garages are created equal, and some cannot handle the length of a minivan or three-row crossover. You may have to consider a shorter three-row car, like the much-loved Honda Pilot or Toyota Highlander. Check online specifications for vehicle length of the cars you're considering to see if they'd even fit in your garage. You may be wary about the expense of a new car, but a garage renovation would cost a bit more, so due diligence is paramount.
Determine your budget: There is a three-row car at a price point for everyone. While a fully-loaded Honda Odyssey or Toyota Sienna offer you a multitude of conveniences, they can cost upwards of $40,000. There are less spendy options like the Mazda5 and Kia Sorento. They're worthy contenders that offer a lot for a price tag in the $20,000 range. Thankfully, car manufacturers — even luxury makers like Mercedes-Benz and Acura — have been catering to larger families for a few years now, so choices abound.
Start your researching and test-driving early: Choices may abound, but the range of cargo volume, fuel economy, price and features can be overwhelming. Make sure you know what matters most to you and seek it out. Minivans are an obvious choice since power sliding doors can be heavenly, but crossovers like the Chevy Traverse and Infiniti JX, along with many others, can work just as well for larger-than-average-families.
Know when to buy. The earlier you start this whole process, the better off you'll be because deals and major incentives occur throughout the year. That means if you know which specific car you want and happen upon a bargain as the model year turns over, for example, go ahead and pull the trigger, even if it's months before junior is set to arrive. At this stage you don't need me to tell you that any money you save now is money you'll need later.