Top 10 Best-Selling Cars: April 2012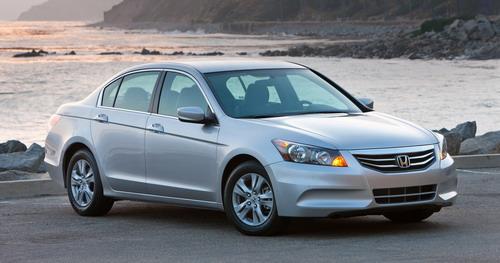 Eight of
March's 10 best-sellers
returned to the table in April, but one of the newbies may surprise you. In March, an incentive-heavy Nissan Altima fell just 1,517 cars short of the redesigned Toyota Camry, clinching the No. 2 best-selling car position. Incentives remain high, but Altima sales dropped drastically enough to knock it off the top 10 list. Instead, shoppers drifted toward the Honda Accord and Toyota Prius.
The Accord, one of April's two newcomers, gained 25.6% last month, snapping three months' sales malaise to fall just 1,435 cars short of the hard-charging, recently redesigned Camry. The shift surprised us, given the Accord is in its final year before a redesign while incentives are about the same as a year ago.
There's little surprise that the Prius' sales catapulted 101.7% despite gas prices leveling off this month. Three new Prius variants — a subcompact Prius c, larger Prius v and rechargeable Prius Plug-in — accounted for 76% of that rise. Strip those away, however, and even the original Prius handily outpaced its year-ago sales.
The Chevrolet Malibu is this month's other newcomer. Malibu sales are down, but April 2011 was
a banner month
for the sedan. If the Malibu and Accord reshuffled the deck for top-selling family cars, their compact counterparts stayed in closer order. Despite stable incentives, the aging Toyota Corolla stayed in the top 10. The redesigned Honda Civic fell 8.8% but stayed put, too. However, the Ford Focus, Chevrolet Cruze and Hyundai Elantra lined up offstage, with Elantra and Cruze sales down more than 20%. Focus sales were up 12.5% but not enough to keep a top 10 ranking.
Detroit's pickup trucks gained some traction in April, as combined sales for the Ford F-Series, Chevrolet Silverado and Chrysler's Ram trucks gained 7.4%.
April auto sales are projected to rise just 2% when all the numbers are in, falling short of the auto industry's double-digit rise in the first three months of 2012. GM and Ford posted slight losses, while Chrysler's meteoric rise continued with its best April since 2008. Toyota took up some of the slack, with sales up 11.6%, while Hyundai-Kia, Nissan and Honda stayed about even.
Why the slowing? For starters, April overlapped five weekends, leaving buyers three fewer days to shop than a year ago. The difference in selling days typically amounts to a day or two; only twice in the last decade has there been three fewer days, GM spokesman James Cain noted.
Moreover, April saw the incentives gap narrow for the first time in months. CNW Marketing Research data show car buyers reaped 15% off the average MSRP in total dealer and automaker incentives. But rising MSRPs outpaced the discounts, so transaction prices shot up: The average car sold for $31,216 in April, or $1,657 (5.6%) more than a year ago.
This month's numbers might seem average, but they portend a stabilizing in the industry. April 2011 also saw relatively normal inventories from Japanese automakers as the impact of the March tsunami hadn't been felt at the dealer level. We expect May 2012 sales for Japanese automakers to have huge spikes versus 2011 numbers that saw drastic drops versus 2010. The upswing in 2012 could look shocking.