Up-Close Mobile App Inspection: iOnRoad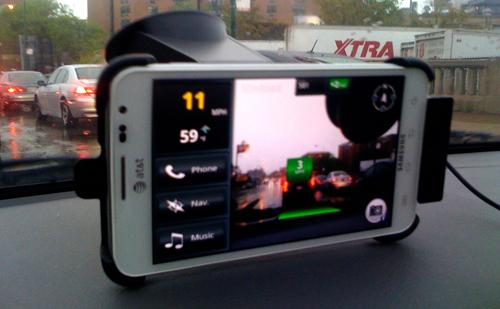 What is it? A smartphone solution for vehicles without collision detection systems.
Price: Free

Platforms: Android 2.2 and higher; iOS version coming soon
Info: www.ionroad.com
Yes, you can have a collision warning system for your car in the palm of your hand instead of an expensive option package. The iOnRoad application uses your smartphone's camera and some fancy algorithms to detect cars in front of you and beep if you approach too closely. Is it a workable substitute for the real thing? Read on to find out.
What you need to know: To use iOnRoad, you need to mount your smartphone into a car dock and it cannot block the camera. I tested the app on city and highway roads using a Samsung Galaxy Note running Android 2.3 (Gingerbread).
Once the app is running, a green line appears to indicate that iOnRoad is monitoring your headway distance. Close in quickly on the vehicle in front of you, and an icon appears over the car that shows the time gap (how many seconds before you hit the car at your current speed), the distance from the car, or the car's speed. A green icon means you're a safe distance away; yellow signifies caution; and red means you're in danger. You can adjust the "threat level" of the alert in the app's settings.
The main app screen contains buttons that let you access the phone, navigation and music apps, a digital speedometer, weather and temperature, and a compass. The top of the screen shows a score of how safe you're driving. Other features include a car locator (see image below), a narrator who reads incoming text messages aloud and phone notifications, lane departure detection and automatic driving detection, which lets your phone launch iOnRoad automatically whenever you start driving. If you wish, you can run the app in the background, so you can use other apps without losing iOnRoad's functionality.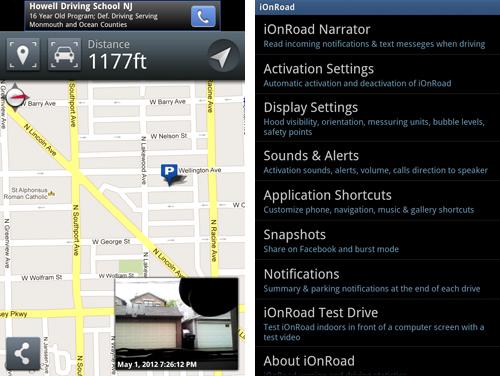 What works: You really need to see iOnRoad in action to appreciate the technology. It's like a Roomba: You can set it and forget it, yet you're compelled to watch it in amazement. If you download the app, you can test it with help from a YouTube video here. (Make sure you're running the app in Test Drive mode, which is accessed in the settings menu.)
While driving in moderate city traffic and on shopping mall access roads, iOnRoad could detect the car in front of me and beep whenever I got too close. It might have beeped a little too often while on a congested highway, but it never became annoying. After all, it is a gentle beep, not a droning alarm. There were no problems using iOnRoad at night, either. The buttons for the phone, navigation and music apps are a plus. I could toggle among them easily, though using the app on a 5.3-inch touch-screen certainly helps.
What doesn't: The app is actively monitoring headway space once the green lane-marking strip appears, and it can take awhile before you see it. When I tested iOnRoad on a rainy day around dusk, I drove miles before that strip appeared, and it showed up for only a few seconds. My guess is that the app needs time to see the edges of the lane. I can't imagine if iOnRoad would be effective during thunderstorms or snowstorms -- two occasions when a collision warning system would come in handy.
The app touts lane departure detection on highways, but it never activated when I switched lanes or drifted close to the shoulder. There were some hiccups with iOnRoad's ability to detect the car directly in front of me. Occasionally it would track the car in the adjacent lane, or it wouldn't detect the car until I passed it. Whereas most collision detection systems in cars use radio waves or a combination of sensors and built-in cameras, iOnRoad relies on a phone's camera, so don't expect the app to work properly if you're following a gray car on gray pavement on a gray day.
Most automakers' collision warning systems also include sophisticated technology that will help the driver brake to avoid a collision, apply brakes for the driver or correct steering when veering between lanes. Clearly, your smartphone isn't going to be integrated with your car's driving functions in any way with iOnRoad.
Bottom line: In city driving with normal traffic and no precipitation, iOnRoad is a nifty app to use, and it's fun to watch (at least it is for this gadget geek and Roomba owner). Hopefully, it will also keep drivers on their toes. If you already mount your smartphone into a car dock, give it a try.