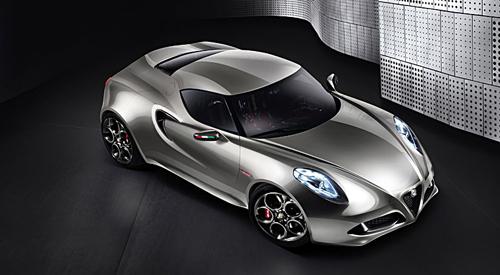 It looks like Chrysler and parent Fiat are resurrecting another European marque in the U.S. After reviving the Fiat brand in 2011 with the
500
, it's Alfa Romeo's turn to woo U.S. consumers. The question isn't if, but when, and what will the brand's inaugural U.S. model be?
The first Alfa to hit U.S. dealerships will most likely be the svelte, sporty 4C coupe. It's not something for the average luxury-car shopper. The 4C met the public in concept form at the 2011 Geneva Motor Show, turning heads with its curvaceous silhouette and carbon fiber body. There, Alfa CEO Harald Wester confirmed that it'd be the first U.S.-market Alfa; production should begin in 2013.
If done right, it could be an eye-catching way of attracting newcomers to the brand. But it may not be the smartest move. Shouldn't Alfa make its first U.S. production car a more mainstream vehicle, like the brand's own Guiletta four-door hatchback that shares components with the Dodge Dart? Instead, the 4C will be a pricey, limited-production luxury coupe.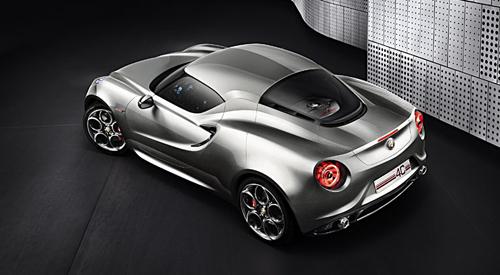 Wester called the 4C "our bridge between the Alfas of today and Alfas of tomorrow." Translation: Alfa's current lineup is aging and there's no reason to bring the outdated vehicles to the U.S. now and disappoint consumers. He said the 4C will be a global car, "bringing the brand to countries where we are absent, starting with the United States." Translation: Its current cars are too European for U.S. tastes, and the U.S. is important because financial woes for Fiat and Europe's lingering economic difficulties have hurt the brand and continue to
cast a shadow on the U.S. rollout's timeline
. The U.S. is a bigger market and one that is booming in terms of luxury sales, which could help lift a European brand.
Rumors of Alfa's return to the U.S. after an almost-20-year hiatus have been floating around for years. Early last month, the Italian automaker trademarked the 4C nameplate, registering it with the U.S. Patent and Trademark Office, making its plans a little more concrete. Sergio Marchionne — who runs all of Chrysler and Fiat — also confirmed both the Alfa brand's return to the U.S. and the 4C going on sale in North America by the end of 2013 during a "60 Minutes" interview.
Fiat's Maserati division recently announced it will start building the 4C next May at its plant in Modena, Italy. It expects to produce up to 2,500 4Cs a year there, the automaker said in a statement. If even half of those make it to the U.S., you're looking at very small numbers. Will there be enough 4Cs on the streets for the brand to gain traction?
The 4C is a rear-wheel-drive, two-passenger coupe. With a wheelbase of less than 96 inches and an overall length around 156 inches, it's compact in size and lightweight. The concept's carbon fiber and aluminum body helps keep it to a slim 1,874 pounds.
It should be agile and quick on its feet, too. Powering the concept is a mid-mounted 200-plus-horsepower, turbocharged 1.8-liter four-cylinder. Alfa Romeo says it'll do zero to 62 mph in less than five seconds, and its weight distribution is 40% on the front axle and 60% on the rear axle. Fiat and Chrysler spokespeople couldn't confirm the production version's powertrain, however.
What is more certain is that when it gets here, it's likely to be pricey. Fiat Engineering Chief Mauro Pierallini has told several European publications that the 4C should cost around 45,000 euros, which translates into $59,013 at today's exchange rates. At that price, it will be pitted against the
Porsche Cayman
, which starts at $51,900. The strategy is reminiscent of Lotus, the European carmaker who joined the U.S. market with similarly priced, limited-production lightweight sports coupes. The brand never really gained traction here, however.
Alfa's limited production plans and the 4C's higher price seem like a risky strategy for a brand looking to enter such an important market. At the very least, if the production version looks only half as good as the concept, it should be a big auto show draw. Tell us, would you buy it?
Related Links
More Automotive News on Cars.com
Alfa Romeo Delays Return to America
Would You Buy It? 2013 Ford B-Max