2012 Tesla Model S Deliveries Start Today, EPA Figures Official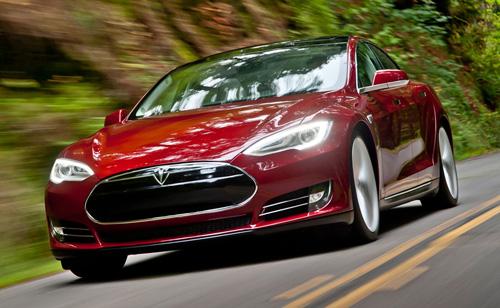 The 2012 Tesla Model S has been in production since at least the start of June, and today, the first 10 Signature models will be picked up by owners at Tesla's factory in California, according to the San Francisco Chronicle. The Signature models are priced from $95,400 to $107,850. Eventually, when more trims go online, the Model S could be had for about $57,400.
The EV startup also announced on Thursday a new partnership with Wells Fargo to provide more retail financing options on the Model S. Tesla is looking into offering a full range of financing options, including leases.
EPA figures were also made official this week. We reported on the EPA rating for the largest battery on the Model S — an 85 kilowatt-hour lithium-ion pack, but the figures are now up on the EPA's website. The Tesla Model S will have an estimated range of 265 miles. While that exceeds the range of any other electric vehicle on the market today, the figure is 12% lower than the 300-mile range Tesla originally quoted. We'd expect to see similar decreases in ranges on the Model S' 40- and 60-kWh batteries (160 miles and 230 miles, respectively), when the EPA tests those vehicles.
Despite the superb range, the Model S is one of the least efficient EVs to date, with an MPGe rating of 89 in the combined cycle — 88 MPGe city and 90 MPGe highway. Compared to the combined tested efficiency of the 2013 Honda Fit EV (118 MPGe), 2012 Ford Focus EV (105 MPGe) and 2012 Nissan Leaf (99 MPGe), the Tesla does lag, but the midsize Model S is bit larger than the other EVs in terms of passenger and cargo space. It's also three times more powerful. The electric motor produces a maximum of 416 horsepower and 443 pounds-feet of torque on the Model S Signature performance trim, which can propel the vehicle from zero to 60 mph in 4.4 seconds, with a top speed of 130 mph.
The electric carmaker already has more than 10,000 reservations for the Model S and 1,000 reservations for its recently announced Model X crossover. Tesla plans on delivering at least 5,300 Model S vehicles this year and 20,000 in 2013, according to the company. Analysts though are less optimistic; AutoPacific estimates Tesla will sell only 4,500 Model S vehicles in 2013 and 5,500 in 2014, as reported by the San Francisco Chronicle.
Related
Tesla Model S Gets Official Price of $57,400
2012 Tesla Model S Will Launch a Month Early, Have 265-Mile Range
More Tesla Model S News