2013 Chevy Volt Gets More Range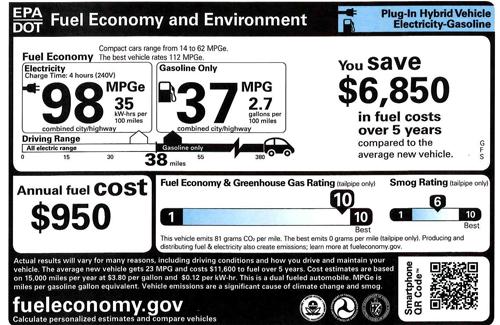 Owners of the
2013 Chevy Volt
will be able to travel a few more miles on electric power, according to Chevrolet. For the new model year, the Volt's all-electric range has been raised from 35 miles to 38 miles on a single charge. The miles per gallon equivalent rating and total vehicle range also increase to 98 MPGe and 380 miles, respectively.
"Engineers made minor changes to the material composition of the battery cell chemistry, resulting in improved performance and durability," GM said in a statement.
Battery capacity has been increased from 16 kilowatt-hours to 16.5 kWh, which means charging times are also up slightly. Chevy says a full charge on a 120-volt outlet could take 10.5 hours and 4.25 hours on a 240-volt outlet, up slightly from previous charging times, which ranged from four to 10 hours.
Volt owners have driven more than 65 million miles since the vehicle launched in 2010, according to Chevy, and about two-thirds of those miles were powered by electricity.
Related
2013 Chevrolet Volt, Equinox Add Safety and Tech Features
Video: Cars.com's Chevy Volt at 18,000 Miles
More Chevy Volt News on Cars.com