413,418 2011-2012 Chevrolet Cruze Vehicles Recalled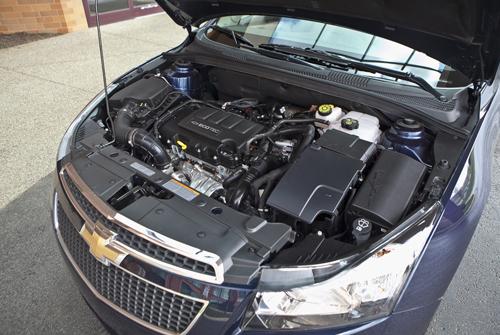 GM announced two voluntary recalls today for its popular Chevrolet Cruze. The first recall affects all U.S.-produced manual- and automatic-transmission Cruzes built between September 2010 and May 2012.
On those vehicles, the engine shield under the vehicle could cause an engine fire, according to the automaker. An improper oil change could result in oil dripping onto the engine shield, which may ignite and burn, possibly causing an engine compartment fire.
The National Highway Traffic Safety Administration already opened a preliminary investigation in April for this issue as a result of two engine compartment fires in 2011 Cruzes and later added the 2012 model year, GM says.
Another voluntary recall will assure that all the welds were completed on the rear compartment of the Cruze. GM has discovered that 249 Cruze vehicles may have missed some welding during production that could affect the fuel-tank strap secondary bracket attached to the floor structure and sub-assembly of the rear floor pan.
Owners of the affected vehicles will receive recall notices starting July 11, GM says. The modification of the engine shield will take about 30 minutes and will be conducted free of charge. Owners who have their Cruze recalled for the welding error will have the issue fixed if necessary, with the repairs taking about three hours to complete.
Related
Research the Chevrolet Cruze
Check out More Recalls
More Safety News