Cars.com Tests New iPhone Maps App in a Mercedes-Benz SL550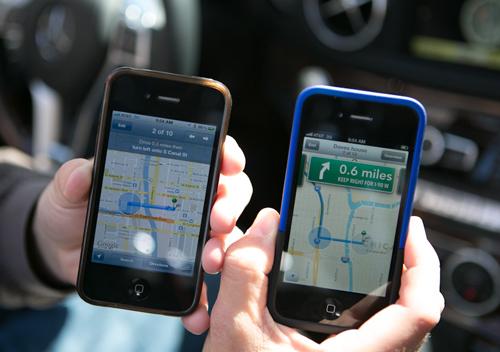 By David Thomas and Dave Lee
Apple unveiled a number of new laptops and two new operating systems earlier this week. The new mobile platform's operating system, iOS 6, will be coming to iPhones this fall, and one of its major upgrades is a new Maps application that's been designed from the ground up by Apple and replaces the current Google-based version.
We installed the beta version of iOS 6 on an iPhone 4 that we had handy and decided to test it head-to-head with an iPhone 4 running iOS 5.
It was a gorgeous Chicago summer day, so it only made sense to log these test miles in a brand-new Mercedes-Benz SL550 convertible, stickering at close to $130,000. I got behind the wheel while gadget-obsessed editor Dave Lee manned the two iPhones side by side in the massage-equipped passenger seat.
This is what we discovered.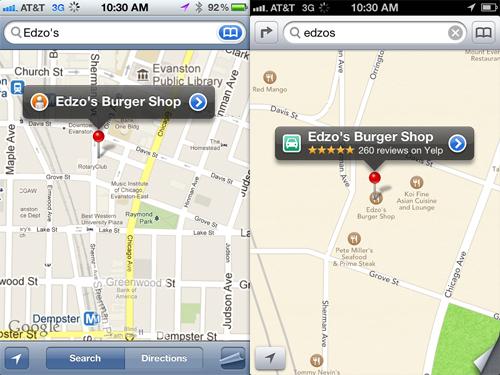 First, the new Maps app isn't a game changer. It works and looks similar to the current Google-based app. That's good because there won't be much of a learning curve but bad because it's still not a true navigation device.
Unfortunately, we weren't sporting two iPhone 4S handsets with features that could take advantage of the Siri system. Our plain pair of 4s (and the iPhone 3GS) do not support voice turn-by-turn navigation, Siri or the cool Flyover mode in iOS 6. That's deflating news for many iPhone 4 and 3GS users. The 3-D feature also wasn't available on the app. We assume it will be added later.
We began our test in Chicago's Lakeview neighborhood, which is near Wrigley Field. Our first test was to set Edzo's Burger Shop in Evanston, Ill., as our destination; we immediately saw one of the biggest enhancements to the app.
Search on iOS 6 featured real-time results without having to hit the Search button. The pin for the restaurant also featured its total star ratings and number of Yelp reviews. Then came the info screen for Edzo's.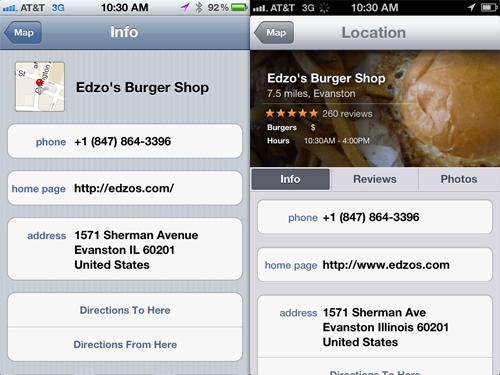 In the iOS 6 app, the upper third of the screen showed a stream of photos of the restaurant that were culled from Yelp. There was also a tab for the basic information you get on iOS 5 plus two other tabs to show Yelp reviews and photos.
Selecting the routes and directions were nearly identical on the two operating systems.
Once we hit the road, we monitored the phones to see how well each one tracked our location. We also punched Edzo's address into the SL's nav system for a third comparison. We weren't going to get lost on this test.
As we drove north on Lake Shore Drive with the SL's top down and the twin-turbo V-8 humming under hood, it was apparent that the app's biggest improvement is the visuals. The directions now appear in larger type inside green boxes that are designed to look like highway signs and take up about a quarter of the screen. The text is accompanied by directional arrows. It looks far better than the small type used in the current Maps app in iOS 5, and the large type will make sure that a driver's quick glances at the app will remain quick.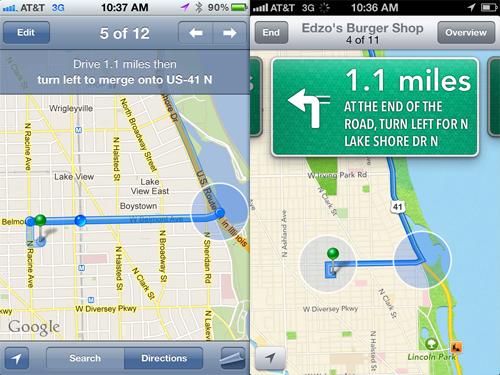 To move to the next direction, swipe the green sign left or right, which is easier than tapping the tiny arrows on the Google-based app. Each app advances the route to the respective turn. The glowing blue orb never forces the app to advance the turn markers even after you pass them like a true navigation device would.
Both phones showed hardly any difference with respect to GPS location with the blue orb tracking accurately.
The iOS 5 iPhone would reorient the screen like a compass as we traveled, but the iOS 6 phone did not, though on a different occasion, the screen on the iOS 6 phone did reorient if you pointed the iPhone in a different direction.
We reached Edzo's with few issues and unfortunately it was a little too early to go enjoy a burger and milkshake. Both are highly recommended if you ever find yourself in Evanston, Ill. So we tapped in a favorite sandwich shop back in Lakeview as a second test.
The real-time search worked perfectly once again and there was full Yelp integration. The return trip was also uneventful and we only wish there was a parking space finder added.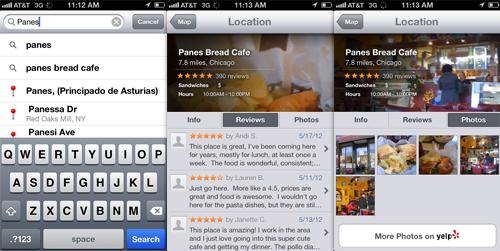 Overall, maps in iOS 6 look less cluttered compared with iOS 5. Major points of interest are still shown, but seeing fewer street grids, street signs and neighborhood names helps to focus your eyes on the route. There was less lag time when zooming in and out of maps on the new app, but traffic information seemed spotty. Sometimes it showed up, but most of the time it didn't. The traffic information is crowd sourced, so it may take time before it works. However, road work and accident markers were operational and seemed accurate for what we encountered on this test and two other standard evening commutes.
From a performance standpoint, both apps match up pretty well, which is a great accomplishment given that Apple said it built its mapping system from scratch. But after all that work, it still looks like a prettier version of the Google app.
We will have to wait until we test Siri's functionality, but neither app delivered many results in a search for "gas station." "Gas" and "Find gas station" returned fewer results and took a lot of time to deliver them.
And as the nav system in the Mercedes reminded us, voice prompts updated as you move are extremely helpful in keeping your eyes where they should be — on the road and not a 3.5-inch screen, even if it is a Retina display.
Maps for iOS 6 doesn't bring the iPhone closer to a GPS device; at this stage, it's more of an iterative improvement that will make current users happier. It won't replace your nav system, certainly not one surrounded by the SL.