J.D. Power Initial Quality Study Shows Multimedia Systems Most Unreliable Part of Vehicles
For the first time, audio, entertainment and navigation systems are the most problem prone parts of a vehicle, according to J.D Power and Associates' Initial Quality Study. Factory-installed multimedia systems have seen problems increase 8% from last year, and nearly 45% since 2006, according to the study.
Even with multimedia systems bringing down scores, the 2012 model year marked the strongest improvement in initial quality since 2009, according to J.D. Power. Of the 34 car makes included in the study, 26 have seen improvements in reliability scores; 65% of the 185 models ranked have seen improvements, too. Overall, vehicle quality has improved 5% over last year and 24% since 2006, despite the multimedia issues. For the model year, Lexus remains the most reliable brand in terms of initial quality, followed by Jaguar, Porsche, Cadillac and Honda.
J.D. Power's rating is determined by the number of problems reported per 100 vehicles. The lower the score, the better the rating. The group polled 74,000 original owners of model-year 2012 vehicles and recorded problems they've experienced over 90 days of ownership.
With its MyFord Touch multimedia system's quality issues, Ford was one of the automakers to see its initial quality score decrease, though just marginally at one additional problem per 100 vehicles. Jaguar posted the largest improvement in the study, reducing problems enough to move it from No. 20 to a second-place showing for 2012.
For the 2012 model year, the average vehicle had 102 problems per 100 vehicles. Notable problems include Bluetooth hands-free connectivity, says J.D. Power, which has seen issues related to the technology increase by 137% in the past four years. Of the 2012-model-year owners, 80% reported having hands-free technology in their new cars, which is also a likely culprit in the rise of dissatisfaction with the relatively new technology.
Check out the charts from J.D. Power below for the full list: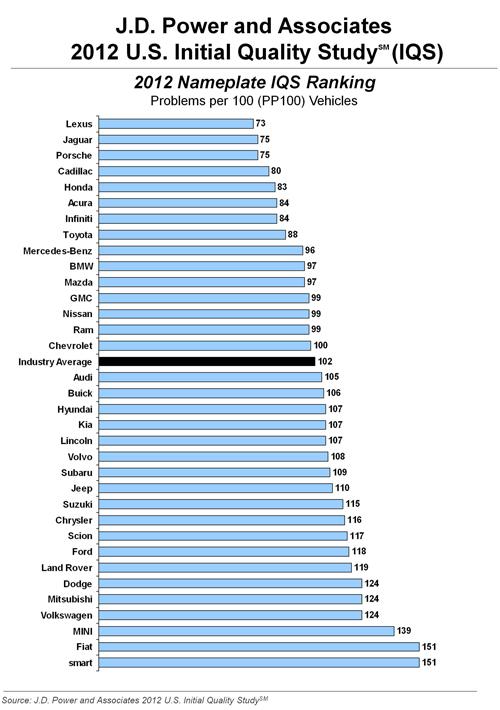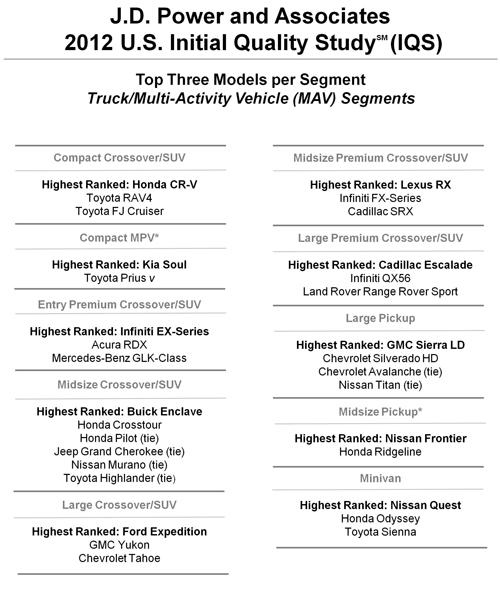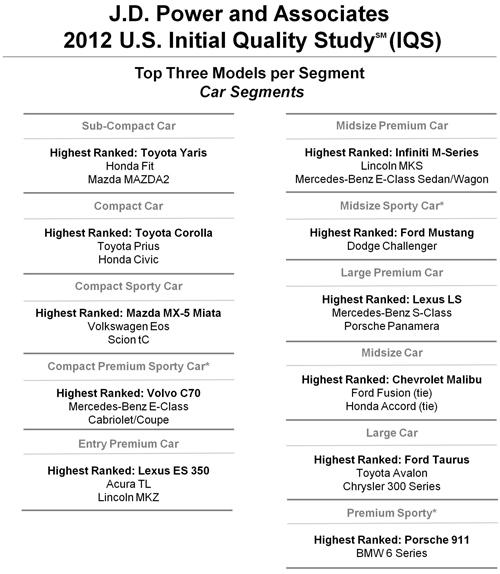 Related
J.D. Power Releases 2012 Dependability Study
Ford Drops; Lexus, Mazda and Jeep Improve in Latest Consumer Reports Survey
As Automakers Face Hurdles, Responsiveness Becomes Key