New Maps Coming to iPhone, iPad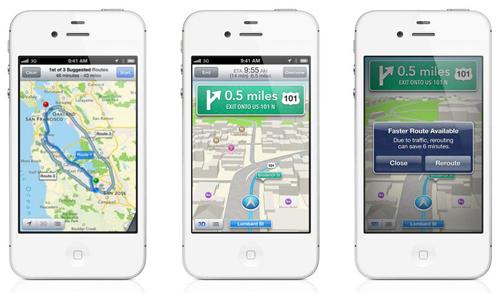 At Apple's Worldwide Developers Conference today, the company announced a new mapping system built from the ground up. The new system is intended to replace Google Maps on iOS 6 devices including the iPhone.
The new Maps application catches up with many features seen in Android devices. Features include:
Local search and points of interest, with more than 100 million listings worldwide.
Yelp is integrated into the app.
Traffic view: Traffic data is anonymous and crowd-sourced.
Turn-by-turn navigation: This is a feature that is long overdue for iOS. If traffic slows down, the app will look for a faster route.
Siri integration: It's just as you'd suspect. Ask Siri to go somewhere, tap the route button and you're on your way. You can ask questions en route to your destination, too, such as, "Where can I get gas?"
The new app will be part of iOS 6, which is coming this fall with support versions of the iPhone 3GS or newer, fourth-generation iPod Touch and second-gen iPad or newer.
Apple also showed off vehicle integration with Siri, called Eyes Free. This feature lets you toggle Siri on your iOS device via a button on the steering wheel. BMW, GM, Mercedes-Benz, Land Rover, Jaguar, Audi, Toyota, Chrysler and Honda have signed on in support, with Siri support showing up in vehicles within the next 12 months, according to a post on Engadget.
Related
Apple Teases Eyes Free, Siri Car Integration (Engadget)
More Car Gadget News
iOS 6 Preview