2012 Hyundai Equus: Car Seat Check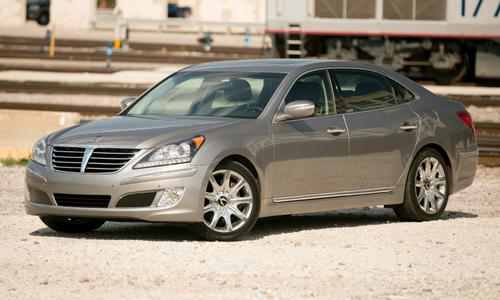 If you already feel like a chauffeur for your kids, ferrying them around in the
Equus
will make you feel right at home. Hyundai's largest sedan has a cavernous backseat with power reclining functionality. Premium materials and plenty of comfort and convenience features make this car more than comfortable for both front and backseat occupants.
For the Car Seat Check, we use a Graco SnugRide 30 rear-facing infant-safety seat, a Britax Roundabout convertible child-safety seat and Graco high-back TurboBooster seat.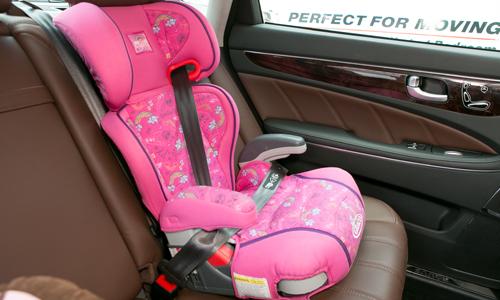 The front seats are adjusted to a comfortable position for a 6-foot driver and a 5-foot-8 passenger. The three child seats are installed in the second row. The booster seat sits behind the driver's seat, and the infant seat and convertible seats are installed behind the passenger seat. We also install the infant seat in the second row's middle seat with the booster and convertible in the outboard seats to see if three car seats will fit. If there's a third row, we install the booster seat and a forward-facing convertible.
Here's how the Hyundai Equus did in Cars.com's Car Seat Check:

Latch system: There are two sets of Latch anchors in the outboard seats. The anchors are not visible in the seat bight, but they're not set too far down so access isn't a problem.

Booster seat: For the booster to have enough room, we needed to raise the head restraints. After doing that, the booster fit well. The seat bolsters helped keep it in place on the seat. The outboard seat belt buckles are on stable bases and sit up high. Kids should have no problem buckling up independently. The middle seat's buckle, however, is floppy and will be harder for kids to use.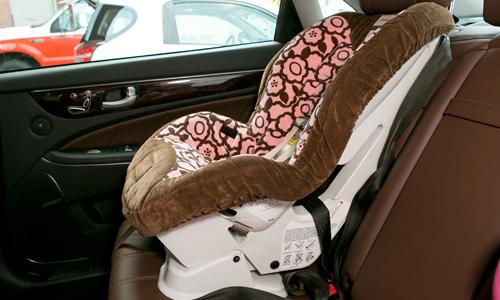 Convertible seat: There are three tether anchors on the rear shelf, but we had to raise the head restraints to access them. The second row's power reclining seats made it easy to situate the convertible at the right angle. The rear-facing convertible also fit well. There's tons of room to spare in this huge backseat.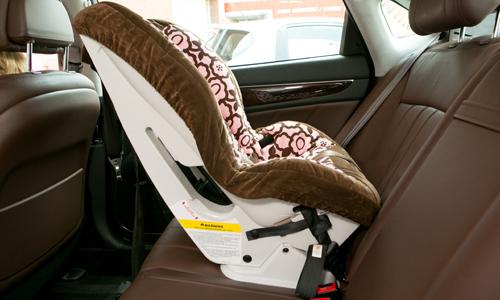 Infant-safety seat: We had no problem connecting to the Latch anchors using this seat's traditional connectors. A long, wide seat bottom meant the infant seat fit well and had plenty of room.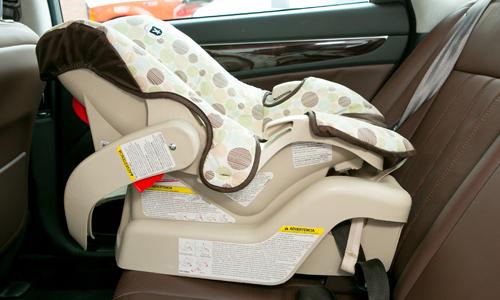 How many car seats fit in the second row? Two. Though the backseat is huge, the two outboard seats are bolstered and the middle seat is very narrow.
Editor's note: For three car seats — infant-safety seat, convertible and booster seats — to fit in a car, our criterion is that a child sitting in the booster seat must be able to reach the seat belt buckle. Parents should also remember that they can use the Latch system or a seat belt to install a car seat.
Related
Research the 2012 Hyundai Equus
More Car Seat Checks on Cars.com
More Family News on Cars.com