2012 Kia Sportage: Car Seat Check
Don't be fooled by the Sportage's edgy, sporty exterior styling. Inside is a family-friendly cabin. Although the Kia Sportage is a compact crossover, two child-safety seats fit comfortably in the second row and easy-to-access Latch anchors eased installation.
For the Car Seat Check, we use a Graco SnugRide 30 rear-facing infant-safety seat, a Britax Roundabout convertible child-safety seat and Graco high-back TurboBooster seat.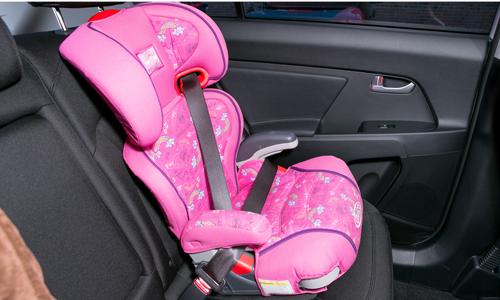 The front seats are adjusted to a comfortable position for a 6-foot driver and a 5-foot-8 passenger. The three child seats are installed in the second row. The booster seat sits behind the driver's seat, and the infant seat and convertible seats are installed behind the passenger seat. We also install the infant seat in the second row's middle seat with the booster and convertible in the outboard seats to see if three car seats will fit. If there's a third row, we install the booster seat and a forward-facing convertible.
Here's how the Kia Sportage did in Cars.com's Car Seat Check:

Latch system: There are two sets of Latch anchors in the outboard seats. They sit just inside the seat bight, where the back and bottom cushions meet, so they were easy to locate and use.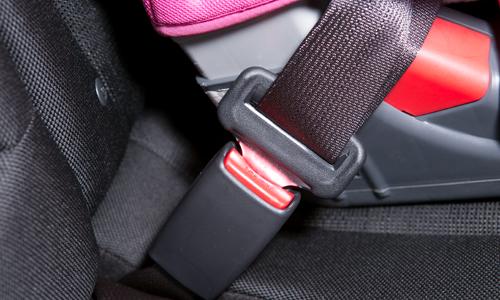 Booster seat: The high-back booster fit well even though the seats are bolstered. The Sportage's buckles are floppy, though, which might make them difficult for kids to use independently. Also note that the second-row bench doesn't slide or recline; reclining the seatback sometimes eases car-seat installation.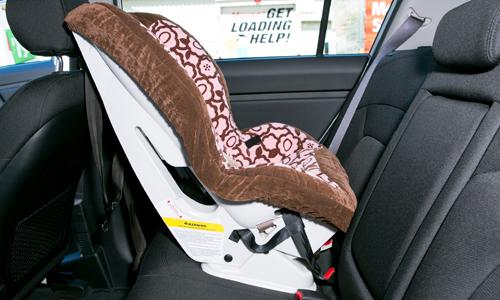 Convertible seat: The forward-facing convertible fit well only after we removed the head restraint to achieve the correct angle. There are three tether anchors midway down the seatback and they were easy to use. We installed the rear-facing convertible without borrowing any room from the front passenger.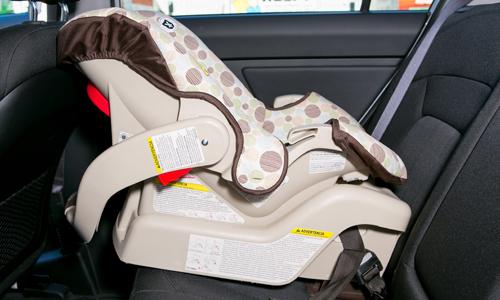 Infant-safety seat: Like the rear-facing convertible, the infant-safety seat had plenty of space and we didn't have to move the front passenger seat forward to accommodate it.
How many car seats fit in the second row? Two
Editor's note: For three car seats — infant-safety seat, convertible and booster seats — to fit in a car, our criterion is that a child sitting in the booster seat must be able to reach the seat belt buckle. Parents should also remember that they can use the Latch system or a seat belt to install a car seat.
Related
Research the 2012 Kia Sportage
More Car Seat Checks on Cars.com
More Safety News on Cars.com