2013 BMW ActiveHybrid 3 Priced at $50,195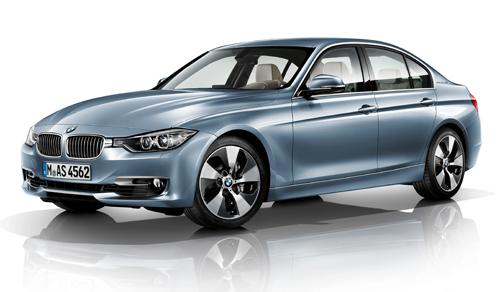 When the 2013 BMW ActiveHybrid 3 goes on sale later this fall it will start at $50,195, including an $895 destination fee. That's a significant price premium ($6,900) over a 2012 BMW 335i, which shares the same inline-six-cylinder engine and eight-speed automatic transmission as the hybrid (the two also share virtually the same trim features). The 335i gets an EPA-estimated 23/33 mpg city/highway; BMW hasn't released official fuel- economy numbers for the ActiveHybrid 3, but it says the model has gotten around a combined 37 mpg in European fuel-efficiency testing, adjusted to U.S. measurements.
The hybrid powertrain is a first for the
3 Series
and features the same system that debuted on the
2012 BMW ActiveHybrid 5
— a twin-scroll turbocharged 3.0-liter inline-six-cylinder with a 55-horsepower electric motor, a lithium-ion battery pack and an eight-speed automatic transmission; it makes a total of 335 hp. The hybrid powertrain is an evolved version of the dual-mode hybrid system found in the
ActiveHybrid X6
; it's now equipped with a precisely controlled energy management system. The hybrid can travel on electric power for 2.5 miles at an average speed of 22 mph. The electric motor can power the sedan at speeds of up to 37 mph alone. Also, when the car is coasting at speeds of up to 100 mph, the gas engine will be fully decoupled and the electric motor will assist instead.
Those figures are the same on the 2013 ActiveHybrid 5, which starts at $61,995, including a $895 destination. The ActiveHybrid was supposed to go on sale in March, but it was delayed and has only gone on sale now, said BMW spokesman Dave Bucko. The ActiveHybrid 5 gets an EPA-estimated 23/30 mpg city/highway, said Bucko. That's only slightly better than a 535i. Bucko says the EPA tests don't "take advantage of all of the fuel-saving technologies built into the system, so in practical terms a driver should be able to do much better."
The ActiveHybrid 3 comes standard with leatherette upholstery, an 8.8-inch display with iDrive controls, dual-zone automatic climate control, adaptive self-leveling xenon headlights with LED accent lighting and 18-inch alloy wheels. Options such as a Cold Weather Package, backup camera, navigation, leather upholstery and an adaptive M suspension can easily add more than $10,000 to the ActiveHybrid 3's base pricing. The hybrid goes on sale later this fall.
Related
2011 BMW ActiveHybrid X6 to Be Discontinued
More BMW 3 Series News
More Hybrid Vehicle News