2013 Chevrolet Camaro 1LE Priced at $37,035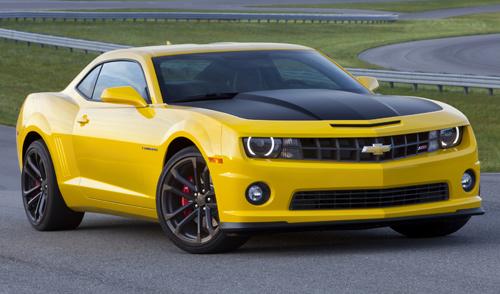 What Chevy calls its "most capable track-day" Camaro yet, the 2013 Chevrolet Camaro with the 1LE Performance Package makes good on the carmaker's promise of coming in under $40,000. It will start at $37,035, including a $900 destination charge, when it goes on sale later this year. That's a bargain compared with the track-ready 2013 Ford Mustang Boss 302, which starts at $42,995.
The new 1LE Performance Package is offered on SS coupes with a manual transmission only. Updates in the $3,500 package include a variable-effort electric power-steering system, a dual-mode exhaust system, a manual transmission with liquid cooling and a higher final-drive ratio, and monotube rear dampers. Twenty-inch aluminum wheels and ultra-high-performance Goodyear tires complete the package.
Aesthetically, the 1LE can be picked out from a crowd of Camaros by its distinct matte-black hood, front splitter, rear spoiler and unique 10-spoke alloy wheels. In the cabin there's a flat-bottom, suede-wrapped steering wheel and a shifter trimmed in suede microfibers, too.
The Camaro ZL1 convertible was also priced this week at $60,445, including a $900 destination charge. Add in an extra $1,300 gas-guzzler tax for the super-fast convertible, however.
Both Camaro variants will go on sale later this fall.
Related
Cars.com Reviews the 2012 Chevrolet Camaro ZL1
2013 Chevrolet Camaro: What's Changed
More Chevrolet Camaro News