2013 Ford Taurus With EcoBoost Four-Cylinder: First Drive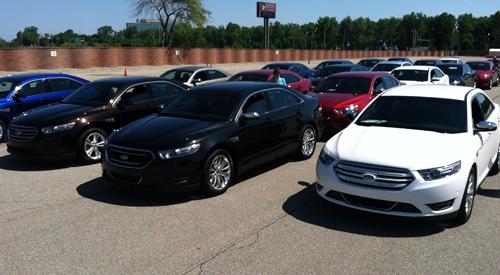 Looking at the full-size Taurus, the thought of sticking a four-cylinder in the heavy sedan seems like an ill-fated move. Ford's execution defies conventional thought, however, thanks to the EcoBoost turbocharged 2.0-liter four-cylinder that has enough oomph — 240 horsepower and 270 pounds-feet of torque — to move the sedan briskly while returning the Taurus' highest gas mileage estimates: 22/32 mpg city/highway.

The EcoBoost 2.0-liter is a $995 option for the Taurus, priced above the standard 3.5-liter V-6. We drove the new engine at a Ford event on the streets of Dearborn, Mich. Despite its pint-sized displacement, the four-cylinder Ecoboost engine doesn't feel out of place in the big sedan. It's eager to pull the Taurus with heaps of usable power available from the get-go; there's no need to rev the engine very high to get the Taurus moving quickly.
Unlike the standard V-6 and the SHO model with the higher-output EcoBoost V-6, weight-adding all-wheel drive isn't available on the four-cylinder version. The EcoBoost four-cylinder with front-wheel drive is the lightest of the lineup at 3,990 pounds, 45 pounds lighter than a front-wheel-drive V-6.

Compared with the standard V-6, gas mileage is improved by 3 mpg in the city and highway, and it's enough of an improvement that the 26 mpg combined rating can mathematically pay for itself in three-and-a-half years, which is within the typical five-year loan. That's assuming you're driving the average 15,000 miles per year using regular fuel at the current $3.75-per-gallon average. Speaking of regular fuel, the Taurus EcoBoost can run on regular, but you won't get the maximum rated 240 hp — that requires premium gasoline. The 2.0-liter makes 231 hp using regular gasoline.


The four-cylinder engine is quiet and unobtrusive when leisurely cruising around, to the point where it's hard to tell if the car is running. It doesn't sound as refined when the accelerator pedal goes down; the 2.0-liter clatters at higher engine speeds. The engine noise isn't overly cheap-sounding and is acceptable for the lower-priced SE and SEL Taurus models. Those spending upward of $40,000 on the loaded Limited trim I drove ($39,580, including $795 destination) may be more concerned, considering $40,000 can buy a lot of refinement.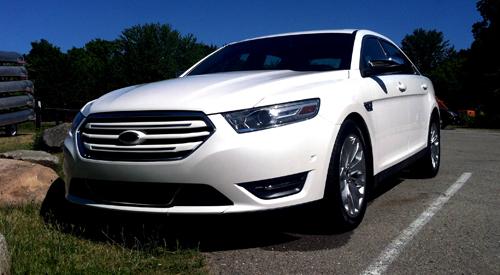 With the EcoBoost engine and $795 destination charge, the SE starts at $28,390, the SEL at $30,590 and the Limited at $34,790. What's nice about pricing is that the engine is a stand-alone $995 option and not tied to an expensive package.

Related
Research the 2013 Ford Taurus
2013 Ford Taurus EPA-Rated at 32 MPG
More Ford News on Cars.com