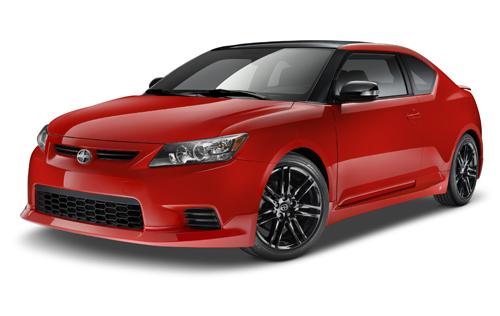 Every car at Scion gets new special-release editions every year. The 2013 Scion tC Release Series 8.0 is priced at $22,545, including a $730 destination fee. Models equipped with an automatic transmission cost $23,595. A regular 2013 Scion tC starts at $19,455, including a $730 destination charge.
Not much has changed, it seems, on the Series 8.0 compared with the 2012 Scion tC Release Series 7.0, which is still on sale for $21,635, including a $720 destination fee. The Series 8.0 includes special 18-inch alloy wheels, ground effects and special trim including red contrast upholstery stitching. The big additions include a unique-looking factory-installed center exhaust and lowered springs. The Series 8.0 is only available with a cherry red exterior and a black interior with red accents.
Only 2,000 units will be built. Considering Toyota has managed to sell only about 12,000 tCs so far this year, we don't think these models will be that hard to find. They should be available at Toyota dealerships now.
Related
2012 Scion xB, tC: Ch-Ch-Changes
Cars.com Reviews the 2013 Scion FR-S
2013 Scion FR-S Video