Bench Seats Versus Captain's Chairs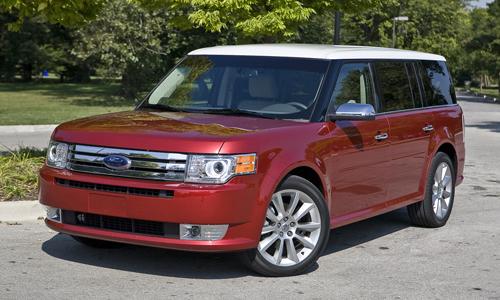 CARS.COM — I'm on a quest for a new family car, one with three rows to accommodate seating for my three tween/teen daughters and the occasional friend or grandparent. My pool of available options is limited by one hard fact: We must have captain's chairs (also known as bucket seats).
While many families may think they want the extra seating capacity that a second-row bench seat allows, I'm here to save you from making that mistake.
Read More #FamilyCarAdvice
While offering room for three passengers, bench seats can create problems in family cars. If you have kids in child-safety seats, you're most likely to put them in the outboard position of the second row, where you have the easiest access to help them climb in and out of the vehicle as well as get buckled and unbuckled. The problem is that in most three-row SUVs, the only access to the third row comes by sliding, folding or flipping one of the outboard seats in the second row. That's difficult to do when a child-safety seat is installed there, though there are a few SUVs (that include the Infiniti QX60, formerly the JX35 up until the 2013 model year), that work around this problem. Most, however, do not. This leaves limited options behind the front seats.
Option 1: You could remove your child-safety seat from the second row and then fold, slide, flip and/or tumble the seat to let the kids climb into the third row. Then you'll need to put the second-row seat back into position, reinstall the child-safety seat and hope your kids don't repeat the foul language you've used while completing this maneuver.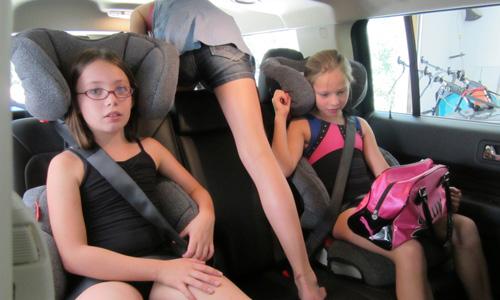 Option 2: You could have the third-row passengers step on the bench seat with their dusty, grimy shoes, then fold their legs up like an Olympic hurdler and catapult themselves over the bench seat into the third row. Warning: This only works for kids small enough to squeeze between the top of the bench seat and the roof of the car.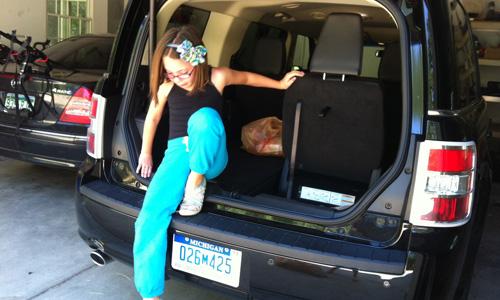 Option 3: If you only have one third-row passenger, you can keep half of the third row folded flat and have your child climb in and out of the SUV through the cargo door and hope nobody calls child services to report that you're locking your kids in the "trunk" of your vehicle.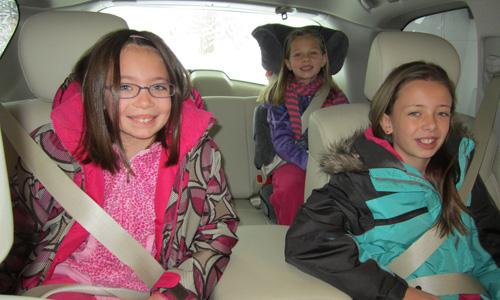 Option 4: You can get captain's chairs and have your kids walk through the passageway between the second-row seats to get to the third row.
You might think you're losing a precious extra seat by going with the captain's chairs. However, as my youngest daughter (who gets sandwiched in the middle of the bench in my test models) tells me, this position in most cases is too narrow to fit a human of any significant width on the row anyway. Apparently, riding for an extended period of time with one butt cheek on one seat belt buckle and the other butt cheek on the other buckle just isn't comfortable.
Instead, why not do away with this useless center seat (Volvo XC90, I'm talking to you) and turn it into a passageway for easy access to the third row? Even when there's a center console between the two captain's chairs, kids can easily step over the console and into the third row when needed. Also, you typically have much more flexibility in the positioning of each captain's chair, so you can adjust the seat back to more easily accommodate child-safety seats of different sizes.
Even better, with captain's chairs, there seems to be an innate calm that happens between siblings in the car when they each have their own defined space.
Do you and your family have a three-row SUV with either a second-row bench seat or captain's chairs? If so, what are the pros and cons of each option for your family?
Cars.com photos by Kristin Varela
Cars.com's Editorial department is your source for automotive news and reviews. In line with Cars.com's long-standing ethics policy, editors and reviewers don't accept gifts or free trips from automakers. The Editorial department is independent of Cars.com's advertising, sales and sponsored content departments.