Daily News Briefs: July 19, 2012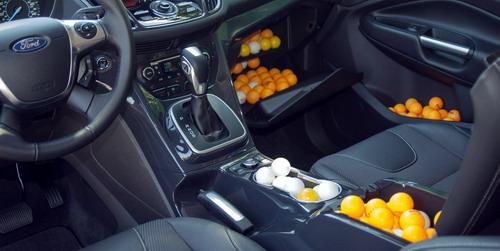 The redesigned 2013 Escape can hold 56,778 pingpong balls, claims Ford. The automaker now uses the balls — they measure a little more than 2 cubic inches apiece — to assess interior volumes for oddly shaped areas like glove compartments or center consoles, which is to say just about every storage compartment inside a car. Ford says pingpong balls are a more accurate way to measure oddly shaped compartments than measuring tape, provided an extra calculation accounts for the open space between the balls. Ford also uses a laser scanner that renders three-dimensional spaces inside its vehicles and competing vehicles; the automaker then scans items from iPads to bicycles to ensure they fit. Here's hoping Ford can improve the space equation: Cramped confines hurt the Focus in Cars.com's compact-car Shootout, and Ford's subcompact Fiesta sibling had similar issues in a separate comparison.
In other news:
Porsche may develop two additional cars after the new Macan small SUV. Automotive News cites company sources deciding whether to add a second, Ferrari-fighting supercar to join the forthcoming 918 Spyder, plus a midlevel luxury sedan to take on the BMW 5 Series and Mercedes-Benz E-Class.
Automotive News reports Honda will boost capacity at a Civic plant in Greensburg, Ind., by 50,000 cars a year in order to build the Civic Hybrid there. All worldwide versions of the compact car, which is currently built in Japan, will come from Indiana. Honda says the move will add 300 jobs.
To lure younger, tech-savvy customers, Audi will build a new network of dealerships in a handful of "affluent" global locations, including select U.S. cities, with things like giant LED touch-screens that allow you to build your car, Automotive News reports.
Related
More Industry News
Research Ford Vehicles
More Automotive News