Despite Supply Issues, Certified Pre-Owned Cars Still Popular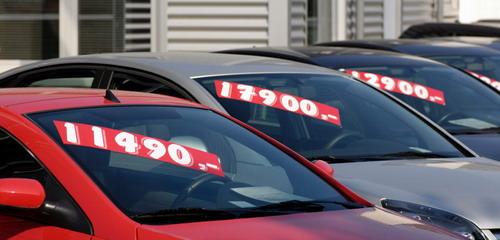 How much more would you pay for a certified pre-owned vehicle? CPO programs inspect and recondition late-model used cars, extend the warranty and sometimes discount the financing. But they cost more up front. Take a popular used car like the 2009 Toyota Corolla LE with around 50,000 miles. Uncertified examples on Cars.com have an average listing price of $13,955. Certified listings, meanwhile, average $14,433 — an extra $478, or 3.4%.
That's at the low end. In April, CNW Marketing Research said the average certified vehicle commanded $2,206 more than a regular used car, up from $1,562 a year before. It's enough of a premium to make shoppers think twice.
But CPO cars remain popular. Sales totaled 754,950 through May, according to Automotive News. That's up 4.9% versus a year ago, and it represents the highest year-to-date CPO sales in the publication's nine-year archives. CNW says the average certified car takes just 25 days to sell versus nearly 42 days for an uncertified used car. A new car took 53 days on average to sell in June.
"There's some weariness perhaps among the consumer," J.D. Power and Associates' Joe Derkos said. Derkos directs consulting and analytics at the group's Power Information Network. "There's potential for that bubble to burst, but we don't see any evidence of that bubble bursting — or any bubble, for that matter. Used prices are high, but they've been high for some time."
And expect to see plenty of certified cars at your local dealership: Inventory is "up slightly from where we were a year ago," he said.
Even as CPO cars cost more, there remains a "healthy divide" between them and new-car prices, Derkos said. (Indeed, a new Corolla LE has a median Cars.com listing price of around $19,000, or around $4,500 more than the CPO 2009s.) But aggressive new-car incentives could upend that and send CPO shoppers toward new cars.
Through May, CPO cars accounted for around one in every 20 used cars sold, according to Automotive News and CNW. That's about even with year-ago figures despite a chief CPO source — leases — drying up during the recession. The process worked like a well-oiled machine: You'd lease a new car, drive it for two or three years and turn it back in. A dealership would inspect and recondition the car, extend the warranty and sell it as CPO. But that cycle broke down in the late 2000s as freefalling residual values led to a leasing collapse.
As new-car sales recover, leasing has stabilized, but it will take time for that to improve the longtime supply — dubbed "off-lease" vehicles — for CPO programs. J.D. Power analyst Thomas King told Auto Remarketing, a publication for the used-car industry, that lease rates have returned to around one in five new cars since spring 2011. Last month, CNW said leases accounted for 26.9% of all purchases, up from 24.6% a year ago. Dealers won't turn those returns into certified cars until mid-2013.
Still, it doesn't seem to matter for some automakers. Toyota has the highest portion of CPO vehicles — 164,151, or 21.7% of the entire CPO industry — and it expects higher inventory by next year.
"Due to a very aggressive lease program conducted in the second quarter of 2010, we are expecting a very significant uptick in certified inventory in 2013," spokesman Sam Butto said via email. "We can expect some inventory leveling off after 2013, but nothing significant."
Certified sales at Hyundai are up 71.8% through May, and CPO manager Jose Froehlich noted that more lease returns should increase availability next spring. Honda spokesman Chris Martin said the automaker's CPO sales are up 7% year-to-date through June thanks to "continued growth (not just this year) of off-lease vehicles coming back to dealers." But GM "is not forecasting record levels for the end of this year," said spokeswoman Meganne Arens. "Inventory levels will be similar to last year's numbers."
Other major automakers declined to comment on CPO inventory, but Cars.com data suggest Volkswagen, Honda and Toyota have the richest mix. Consider CPO inventory on Cars.com as a percent of all used cars 10 years old or newer:
Volkswagen: 25.2%
Honda: 24.5%
Acura: 24.0%
Toyota: 24.0%
Lexus: 20.0%
Audi: 17.9%
Mercedes-Benz: 17.7%
BMW: 17.2%
Buick: 16.4%
Lincoln: 16.1%
Subaru: 15.5%
Chevrolet: 14.7%
GMC: 13.9%
Mazda: 12.5%
Hyundai: 12.1%
Nissan: 11.1%
Ford: 9.2%
Cadillac: 7.9%
Jeep: 7.5%
Infiniti: 6.6%
Dodge: 6.3%
Chrysler: 5.6%
Source: Cars.com data as of July 11, 2012. Inventory is a percentage of CPO cars versus all used vehicles from 2003 to 2012. Fiat, Kia, Mini, Mitsubishi, Ram, Scion, Smart and Suzuki do not have CPO inventory on Cars.com.
Why the steady inventory? In short, car dealers found ways to circumvent the issue. They're certifying more used cars — and not necessarily lease returns — as shoppers trade them in. In many cases, they're pushing former buyers to trade in sooner.
"They knew [the lease collapse] was coming, and they were getting their tactics ready for it," J.D. Power's Derkos said. "If you own your vehicle, I guess you may have gotten a flyer from your dealer asking you to come and trade in."
Related
Compare CPO Programs
Search Certified Listings
More Automotive News