Ford C-Max Plug-in Travels 20 Miles on Electric Power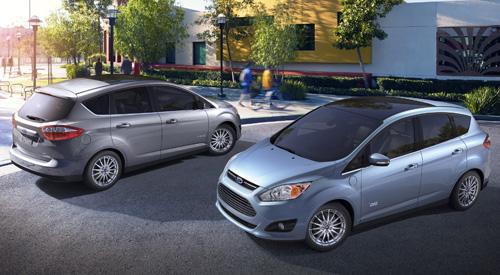 Ford expects its first plug-in hybrid to be able to go more than 20 miles on electric power alone. The automaker also projects the
C-Max Energi
to deliver a total range of 550 miles.
The Energi wagon is the plug-in gas/electric sibling of the C-Max Hybrid. The Energi has a bigger battery pack than the C-Max Hybrid and uses a 2.0-liter four-cylinder engine and an electric motor powered by a lithium-ion battery pack to make a combined total of 188 horsepower.
According to Ford, the C-Max Energi should get the city/highway combined equivalent of 95 MPGe. The wagon can be fully charged overnight on a household 120-volt outlet.
The Energi goes on sale this fall. No word yet on pricing, but the C-Max Hybrid will start at $25,995 when it goes on sale this fall.
Related
Ford Predicts 47 mpg for C-Max Hybrid
2013 Ford C-Max Hybrid Priced at $25,995
2013 Ford C-Max Hybrid, Plug-in Hybrid at 2011 Detroit Auto Show