Ford's Three-Cylinder Engine Is No Pushover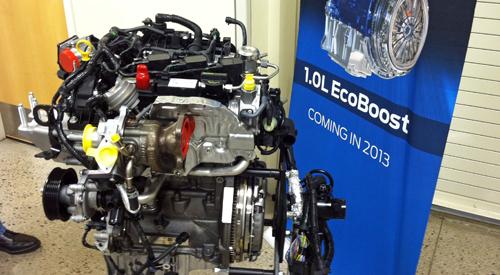 Forget about your high school buddy's three-cylinder Geo Metro that you and two friends tipped over on its side as a practical joke. We just drove Ford's turbocharged 1.0-liter three-cylinder EcoBoost engine at the automaker's proving grounds, in Dearborn, Mich., and it demonstrated that a three-cylinder engine shouldn't be dreaded. To the contrary, Ford's 1.0-liter is actually worthy of excitement.

Although the 123-hp version I drove wasn't a barn burner, the level of refinement and smoothness Ford achieved is shocking, considering its uneven cylinder count puts it at an inherent balance disadvantage. The EcoBoost 1.0-liter is modestly powered in the manual-transmission European-spec Ford Focus I drove; a 98-hp version is also available overseas.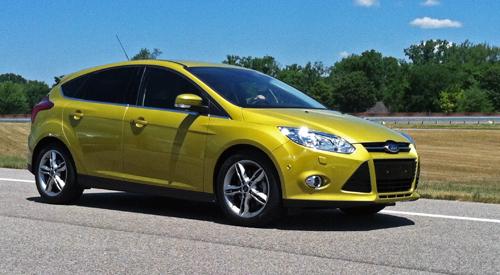 There's a sweet spot around 2,000 to 3,000 rpm where the engine is very responsive and eager to pull the Focus forward. As engine speed increases, the 1.0-liter is quieter and more refined than the base 2.0-liter four-cylinder in the currently available Focus and other inexpensive compacts with commonly noisy engines. Unfortunately, I wasn't able to take the 1.0-liter on city streets and evaluate passing power or accelerate past 50 mph. Based on first impressions, however, consider my mind blown.

With such a tiny engine, fuel economy will likely be impressive, but Ford hasn't yet completed mileage evaluation using the EPA's test cycle. We can't give a direct comparison on mileage considering that European fuel economy practices are different from the EPA's. However, Ford's Powertrain Communications Manager Richard Truett says they aren't taking any steps backward from the current Focus and Fiesta's 40-mpg rating.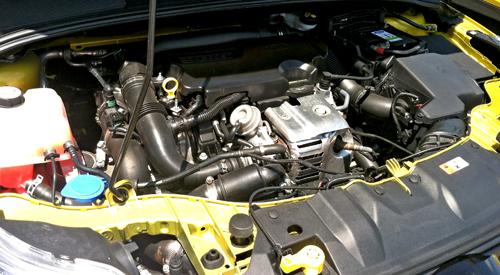 The 1.0-liter is packed with technologies and unique construction to be as fuel efficient as possible, including turbocharging and direct injection like other EcoBoost engines. An iron engine block is used to warm up the block quicker for greater efficiency compared with aluminum. Exhaust manifolds are integrated into the cylinder head for improved thermal control.

The Ecoboost 1.0-liter will debut in a yet-to-be identified small car next year. You can read more about the 1.0-liter's technology here.

Related
Ford Announces 1-Liter EcoBoost Engine, New Transmissions
Research the Ford Focus
More Ford News