2013 Hyundai Elantra GT: Car Seat Check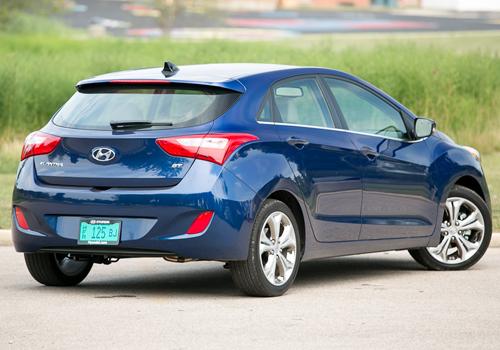 After a several-year hiatus, a hatchback returns to the
Elantra
lineup, replacing the unpopular Elantra Touring wagon for 2013. Given its hatchback body style, we figured the GT would be roomier than the Elantra coupe in terms of handling a couple child-safety seats. However, a small backseat and firm seat cushions made it hard to install our car seats.
For the Car Seat Check, we use a Graco SnugRide 30 rear-facing infant-safety seat, a Britax Roundabout convertible child-safety seat and Graco high-back TurboBooster seat.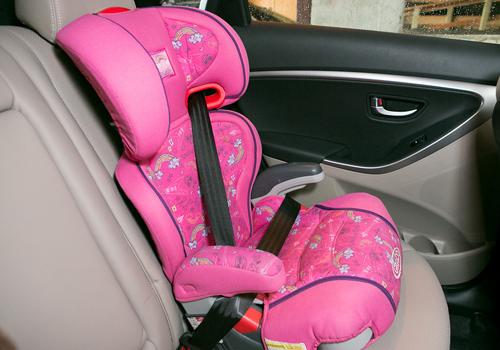 The front seats are adjusted to a comfortable position for a 6-foot driver and a 5-foot-8 passenger. The three child seats are installed in the second row. The booster seat sits behind the driver's seat, and the infant seat and convertible seats are installed behind the passenger seat. We also install the infant seat in the second row's middle seat with the booster and convertible in the outboard seats to see if three car seats will fit. If there's a third row, we install the booster seat and a forward-facing convertible.
Here's how the 2013 Elantra GT did in Cars.com's Car Seat Check:

Latch system: There are two sets of Latch anchors in the outboard rear seats. Although the anchors aren't set too far down into the seat bight, the cushions are firm, so accessing them is tough. It requires a lot of force to push through the cushions to get at the anchor.

Booster seat: The seats are flat, so the booster fit well. The buckles are on stable basis, making it easy for kids to buckle up independently.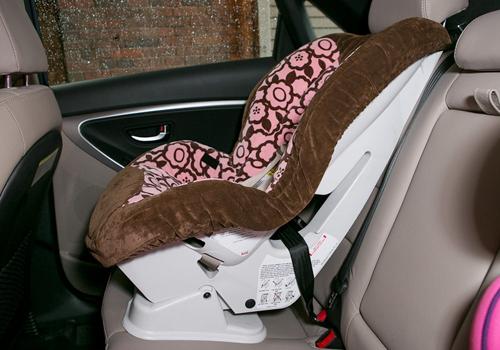 Convertible seat: The rear-facing convertible needed more room, so the front passenger seat had to be moved up to accommodate it. An average-size passenger will still have enough legroom, though. The stiff seat cushions and narrowly-set anchor complicated installation. Forward-facing, the convertible seat fit well, but the head restraint had to be moved up to achieve the correct angle. The head restraint doesn't come off because the ceiling is too low. There are three tether anchors on the cargo floor behind the rear seats. It's a long reach for the strap. The cargo cover is in the way so the strap must be fed through the narrow opening between the cover and the seatback.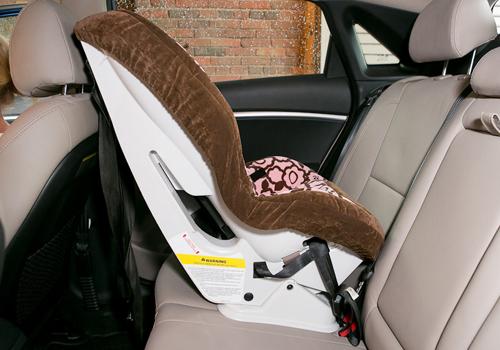 Infant-safety seat: The front passenger seat had to be moved up even more to make room for the infant seat. Only a very small passenger will be comfortable in the front seat.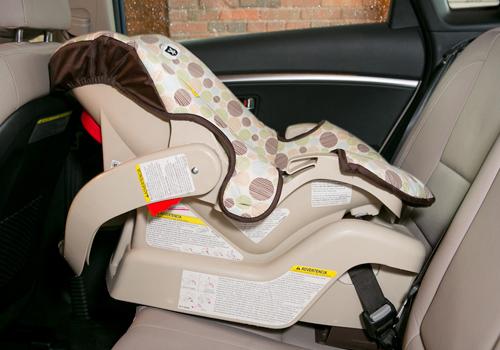 How many car seats fit in the second row? Two
Editor's note: For three car seats — infant-safety seat, convertible and booster seats — to fit in a car, our criterion is that a child sitting in the booster seat must be able to reach the seat belt buckle. Parents should also remember that they can use the Latch system or a seat belt to install a car seat.
Related
Research the 2013 Hyundai Elantra GT
More Car Seat Checks on Cars.com
More Safety News on Cars.com