2013 Nissan Pathfinder: From Tough Guy to Family Guy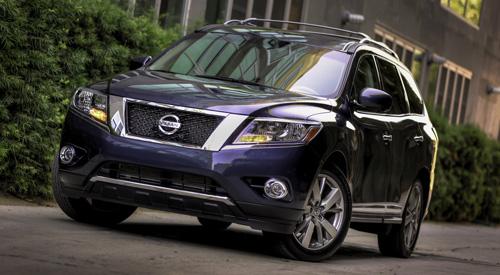 It's what's inside that matters, right? In the case of the
2013 Nissan Pathfinder
, definitely. But the outside is just as much a part of the transformation of this once-rugged SUV.
For 2013, Nissan's three-row SUV was completely redesigned, shedding its blocky, stocky look and trucklike body-on-frame architecture for the curves and unibody platform of the crossover class. The fourth-generation Pathfinder also gains a warm, inviting interior full of family-friendly features, a stark comparison to its old utilitarian self.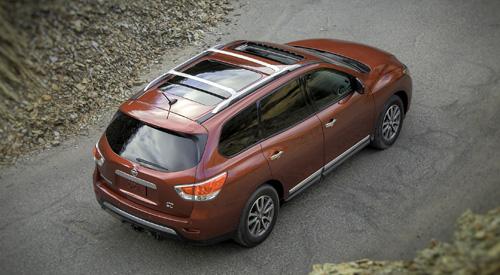 Why the transformation? It's what the people wanted, according to Tom Smith, Nissan's director of truck marketing. To Smith, the previous Pathfinder was "the Last of the Mohicans," he said. As body-on-frame SUVs became dinosaurs and crossovers rolled in to take their place, the Pathfinder became outdated.
Sales have been on a steady decline, too. The last-generation model peaked at a high of 70,000 units a year, but just 25,935 were sold in 2011.
With the new Pathfinder, Nissan hopes to attract what Smith calls "savvy, cool parents." Translation: busy, active families — the market every crossover aims to conquer. How will the Pathfinder set itself apart? A cabin loaded with creature comforts is sure to appeal, along with the Pathfinder's shifted focus from utility to comfort.
For 2013, the Pathfinder can be packed with interior goodies like a dual panoramic sunroof, three-zone automatic climate control, heated and cooled front seats, heated steering wheel and heated second-row seats, the Around View Monitor camera system, the Easy-Fill tire alert system and a dual-screen 7-inch DVD entertainment system.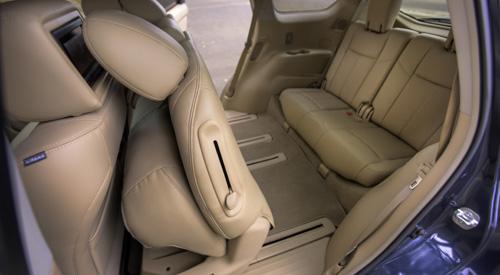 Nissan also says there's more room for passengers. The 2013 Pathfinder offers 8 more cubic feet of people space. Like the Infiniti JX's flexible seating system, the Pathfinder's second row slides 5.5 inches to ease third-row access, and the seat also lifts and slides in one maneuver so that a forward-facing child-safety seat can remain installed in the second row. We tested this system in the JX and came away impressed.
But what about the truck's previous audience, the off-road enthusiasts? Even though the Pathfinder lost its V-8 for 2013 — a 260-horsepower, 3.5-liter V-6 replaces it — Smith says the redesigned vehicle delivers the capabilities of an SUV in a more modern-looking package. The 2013 version still has a competitive towing rating of 5,000 pounds (down from 6,000 pounds) and a robust four-wheel-drive system, and both should appeal to the Pathfinder's previous audience, Smith said. The goal, he said, was to "keep one foot in the SUV camp."
The 2013 Pathfinder goes on sale this fall starting at $28,270 excluding destination charges, which haven't been released at this time. That would make the Pathfinder one of the lowest starting prices in the competitive class, which includes the Honda Pilot, Chevy Traverse and Ford Explorer.
Related
Research the 2013 Nissan Pathfinder
Nissan Unveils a Leaner, More Efficient Pathfinder
Infiniti JX's Smart Second Row Means No More Squeeze Play