Daily News Briefs: Aug. 3, 2012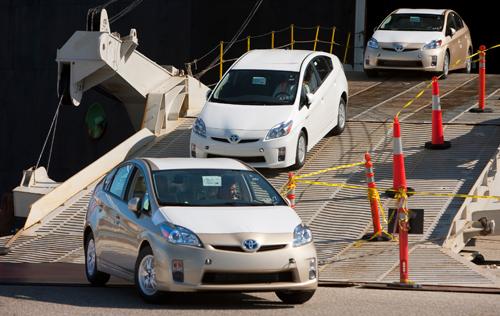 Toyota is expected to retake the title of No. 1 automaker from GM for 2012, according to analysts speaking with Bloomberg News. The automaker reported selling 4.97 million vehicles in the first half of the year compared to GM's 4.67 million vehicles and VW's 4.45 million vehicles. Toyota expects to sell 9.76 million vehicles in 2012 and produce a total of 10.05 million vehicles worldwide.
In other news:
Despite not being fully revealed, the new 2014 Mazda6 went into production today in Japan, according to Automotive News. The new Mazda6 will hit dealerships in the U.S. in early 2013 and be fully unveiled in late August.
Tesla Motors produced its first 50 Model S vehicles, according to Bloomberg News. The EV startup will accelerate output to meet its manufacturing goal of 5,000 Model S vehicles in its first year of production. Tesla expects to produce just 500 Model S vehicles this fiscal quarter, however.
A recent Department of Energy study suggests that internal-combustion engines will remain the dominate power source for cars until at least 2050, reports Automotive News. Despite the continued reign of combustion power, the Department of Energy says vehicles will become 90% more fuel efficient than they are today by 2050.
Related
Should You Wait for the 2014 Mazda6?
More Industry News
More Automotive News