July's Fastest and Slowest Selling Cars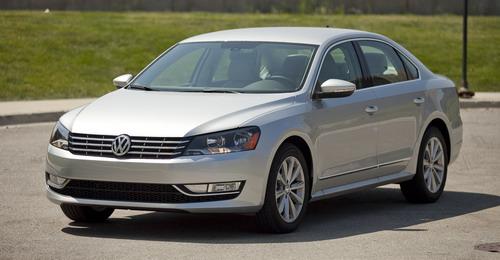 Who says old cars won't sell? July's fastest sellers include newbies like the redesigned Nissan Altima and two Hyundai Elantra additions — the coupe and GT hatchback — but a number of cars that have been on the market a year or more are flying off lots. The year-old Volkswagen Passat, our Best of 2012 car, averages just five days to sell. The Kia Soul, which went on sale way back in spring 2009, takes just a week to sell. The Hyundai Tucson, Kia Optima and Subaru Outback are also among July's fastest sellers, and all of them are at least 2 years old.
On the newer side, the Dodge Dart and Scion FR-S are off to a fast start. The Scion marks its second month in a row among the fastest sellers. Other repeat performers include the Cadillac XTS and Ford Escape (second month each), Hyundai's Veloster and Accent hatchbacks (third month), Soul (fourth month) and Toyota Prius c (fifth month). The Subaru Impreza has the longest tenure here, having been among the fastest monthly sellers since just after it hit dealerships in November 2011. July marks the Impreza's eighth consecutive month.
July's slowest sellers include the usual mix of high-end luxury cars, but there's bad news for Honda: The Civic Hybrid averages more than four months to sell. (See our lukewarm review to find out why.) Hybrid doldrums haven't stopped Civic sales, which are up 32.5% for the year. Honda isn't pushing the Civic Hybrid hard; less than 6% of Civic new-car inventory on Cars.com is the gas-electric version.
Cars in July averaged 63 days to turn. That's up from June's 53 days — typical for this time of year — but it's also higher than July 2011's 59 days. The slower sales pace didn't keep new-car sales from rising 9% last month, but it may have played a part in a slight incentives uptick. CNW Marketing Research says factory and dealer discounts amounted to 13.3% off the average new car's MSRP in June. That's up from 13.2% a year ago. But average transaction prices increased to $32,183 — up $2,523 from a year ago — as MSRPs continued to rise.
Here are July's Movers and Losers:
July's Movers
2013 Volkswagen Passat: 5 days
2013 Hyundai Veloster: 6 days
2013 Nissan Altima sedan: 6 days
2013 Hyundai Elantra GT: 7 days
2013 Kia Soul: 7 days
2013 Hyundai Elantra coupe: 8 days
2013 Hyundai Tucson: 8 days
2013 Scion FR-S: 8 days
2012 Subaru Impreza hatchback: 8 days
2013 Cadillac XTS: 10 days
2013 Kia Optima: 10 days
2013 Subaru Outback: 10 days
2013 Chevrolet Camaro coupe: 11 days
2013 Dodge Dart: 11 days
2013 Ford Escape: 11 days
2013 Ford Fiesta sedan: 11 days
2013 Hyundai Accent hatchback: 11 days
2013 Hyundai Accent sedan: 11 days
2012 Toyota Prius c: 11 days
July's Losers
2012 Mitsubishi Lancer Sportback: 189 days
2012 BMW 650i convertible: 181 days
2012 Jaguar XJ Supercharged: 174 days
2012 BMW 640i convertible: 163 days
2012 Chevrolet Silverado 3500 regular cab: 158 days
2012 Mercedes-Benz S350 Bluetec: 140 days
2012 Honda Civic Hybrid: 139 days
2012 Mercedes-Benz GL550: 138 days
2012 Jaguar XJL Supercharged: 136 days
Cars.com Recommendations
2012 BMW Z4: 72 days
2012 Nissan Rogue: 73 days
2012 Infiniti G25 sedan: 96 days
2012 Infiniti G37 sedan: 85 days
2012 Volvo S60: 92 days
2012 Ford Fusion Hybrid: 112 days
About the List
We changed the headline of Movers and Losers earlier this year, but we'll continue to call the lists themselves Movers and Losers. The Movers and Losers list reports the average number of days it takes to sell models from the day they arrive on the lot until the final paperwork is signed by a buyer. This is not a days-of-inventory list like you may find on other websites. We now focus on 2012 and 2013 model years.
For Movers, we only list vehicles that pass a certain threshold of sales in order to weed out limited editions, ultra-high-performance cars and others that might skew the numbers or otherwise inaccurately portray popularity. For Losers, we removed any threshold to reflect 2012 models that may have the greatest incentives.
Related
June's Fastest and Slowest Selling Cars
See Rebate and Financing Offers Near You
More Automotive News