Mazda Builds Last Mazda6 in Michigan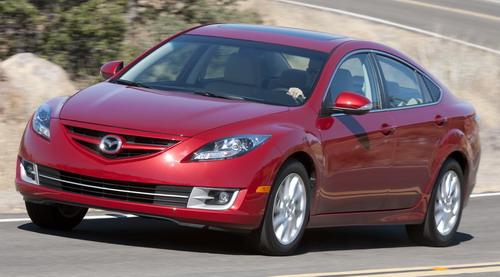 Mazda will give the redesigned Mazda6 a soup-to-nuts reveal in just a few days, but the family sedan won't come from Flat Rock, Mich. That's where the automaker has built the Mazda6 for a decade, but it announced more than a year ago that Mazda6 production in Flat Rock would end. That end comes today, as the Detroit News reports a small ceremony will mark the final Mazda6 rolling off the line.
Mazda plans to import future Mazda6s for the U.S. market from overseas. The automaker will retain a 50/50 stake with Ford in the Flat Rock plant, a joint venture between the two automakers since 1992. Flat Rock also builds the Ford Mustang and, with another 1,200 jobs and $550 million investment by Ford, will add the next-gen Fusion.
Despite its
midpack placement
in Cars.com's $25,000 Family Sedan Shootout, the Mazda6 hasn't sold well. It arrived in summer 2008, and sales for the year hit 52,590 — a level not reached since, and still a fraction of competitors like the
Honda Accord
,
Toyota Camry
and
Nissan Altima
.
Known as AutoAlliance International, the Flat Rock assembly plant's history includes the Mazda MX-6 and Ford Probe, plus the Mazda 626 and the two-door Cougar from Ford's erstwhile Mercury division.
Related
Should You Wait for the 2014 Mazda6?
2013 Ford Fusion Priced at $22,495
More Automotive News