Where to Sit: Scion iQ's Front Seats or GMC Yukon XL's Third Row?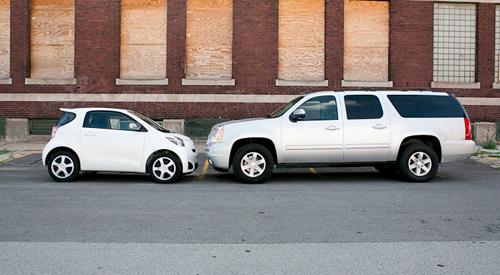 There's no reason why anyone should cross-shop the Scion iQ microcar and massive extended-wheelbase GMC Yukon XL, but coincidence brought these polar opposites into Cars.com's test fleet at the same time. The amount of space inside the Yukon is impressive to the point where we wondered if the third row could be roomier and more comfortable than the iQ's front seats. Wonder no more, we got out the measuring tape.

Check out the Scion iQ vs. GMC Yukon XL Photo Gallery On Facebook

The difference in size is staggering. From bumper to bumper, the entire iQ can fit between the Yukon XL's wheelbase. Subtract the iQ's curb weight (2,127 pounds) from the Yukon XL's (5,824 pounds) and there's almost 3,700 pounds left over to craft a midsize sedan.

The Yukon XL's third row has a tough task to conquer the iQ's front seats because, despite a small exterior, the Scion's surprisingly large interior has plenty of room for front occupants.
Comparing size specifications results in a stalemate as the Yukon XL's third row has more head- and shoulder room, but the iQ's front seats have additional leg- and hip room. We're not going to call a final verdict based on the specs because the amount of actual room isn't always reflected in sometimes misleading specifications.
| | | |
| --- | --- | --- |
| | Scion iQ front seats | GMC Yukon XL third row |
| Legroom | 40.9 inches | 34.9 inches |
| Headroom | 37.7 inches | 38.1 inches |
| Hip room | 53.9 inches | 49.4 inches |
| Shoulder room | 53.1 inches | 64.7 inches |
However, the specs prove true for the iQ's superior legroom versus the Yukon XL's third row when tested with my 6-foot frame. My knees were more elevated — making it less comfortable — in the SUV because there are 6 fewer inches of legroom; the second row isn't adjustable to give extra legroom for third-row passengers. The Yukon's slight headroom advantage was hardly noticeable at my height, while shoulder and hip room wasn't an issue during our testing where we crammed a similarly sized adult alongside me in the Yukon's third row and passenger seat of the iQ.
The Yukon XL's third row comfort is hurt most by its legroom deficit compared to the Scion and its low seat position in relation to the floor that's common of third rows. The XL has an additional 9.3 inches of third-row legroom than the regular Yukon and, otherwise, is a comfortable seat for a full-size adult. That's hugely impressive considering third rows are typically jump seats for kids.
Even so, the iQ has enough legroom to pull off a victory in a static comparison between these two seats. The thing is, I couldn't stand driving the iQ more than 30 minutes because my lower back started to hurt from the seat's poor support. The seat bottom cushioning is flat and back support is in the wrong place for my build. At least the Yukon XL's third row could distract me from its legroom limitations with wireless headphones and its flip-down 8-inch LCD monitor.
Related
2012 Scion iQ Review
2012 GMC Yukon Review
Research New Cars