2013 Ford Fusion EPA Rated at 37 MPG Highway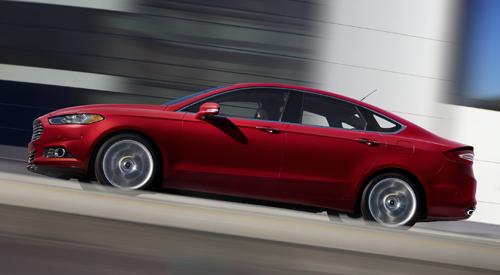 The redesigned-for-
2013 Ford Fusion
goes on sale this fall, and official EPA numbers were recently released for all three engine options.
The most efficient engine — the 1.6-liter, turbocharged four-cylinder — is rated at 25/37/29 mpg city/highway/combined with a manual transmission and at 23/36/26 mpg with an automatic. Most Fusions will be sold with automatics.
Neither figure beats the Nissan Altima (equipped with a continuously variable automatic transmission) at 27/38 mpg. The 2.0 turbo gets 22/33 mpg, which is behind most versions of the just-announced 2013 Honda Accord with the 2.4-liter (26/35 mpg coupe, 27/36 mpg sedan).
These are not the base engines. The base 2.5-liter, a carryover from the previous generation, has been revised to return 22/34/26 mpg. It is only available with an automatic.
The base S model starts at $22,495, and the 1.6-liter with an automatic starts at $24,495 in SE trim. Both prices include destination.
Related
2013 Ford Fusion Gets EPA Ratings, 1.6 EcoBoost Scores 25/37 (Car & Driver)
2013 Ford Fusion Priced at $22,495
Research New Sedans