2013 Ford Taurus: King of Trunks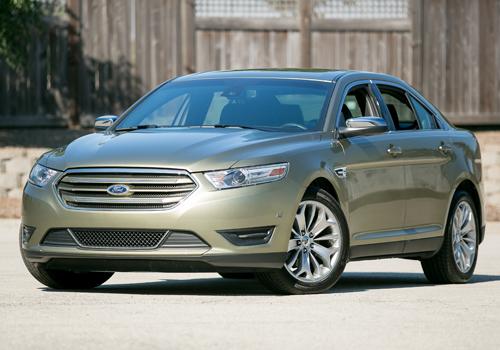 SUVs and vans are the only way to go when packing for a long trip full of gear, right? Think again. Some sedans have really large trunks, and the
Ford Taurus
' has room to spare.
I put it to the test during a long-weekend full of biking gear and it passed — and then some. It's got 20.1 cubic feet of trunk space. That number alone may not mean much, but it's the largest trunk on the market. And all the stuff we fit into it speaks volumes.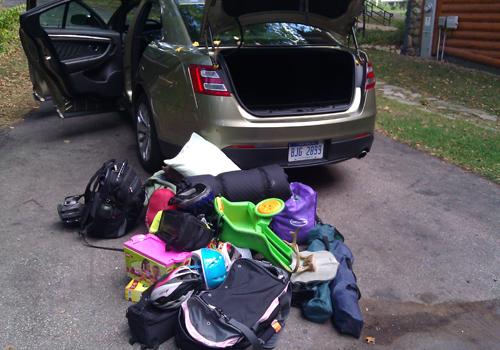 Three adults and a toddler on a three-day bike trip require a lot of gear. The Taurus managed to swallow all of it: Three backpacks, one large cardboard box filled with 25 water bottles, two duffle bags, several grocery bags, three bike helmets, three bike bags, two camping chairs, one toddler bike seat, one inflatable bedroll, one sleeping bag and three pillows.
How much it holds is impressive by itself — even more so when you look at the competition. To be fair, at 202.9 inches long — the same as a Honda Odyssey minivan — it's got a few inches of length on its competitors, but it eclipses them in trunk space by quite a bit.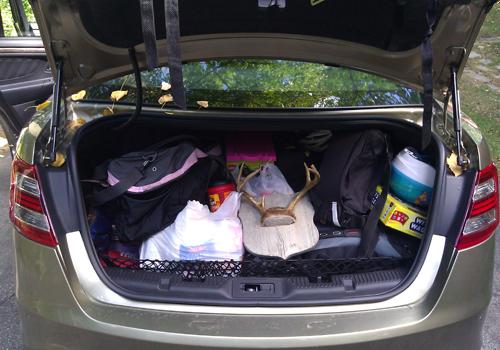 Large-car-class rivals like the
Hyundai Azera
(16.3 cubic feet) and
Toyota Avalon
(14.4) don't even come close. Near-luxury sedans like the
Chrysler 300
(16.3),
Buick LaCrosse
(13.3) and
Volkswagen Passat
(15.9) don't either. The Taurus' trunk space even trumps premium large sedans like the
Lexus LS
(18.0) and
Mercedes-Benz S-Class
(16.4).
No, we didn't put the kitchen sink in there, but we managed to squeeze in a tiny set of mounted antlers — a Northwoods souvenir.
Related
Research the 2013 Ford Taurus
Top 10 Cargo Surprises
How Much Stuff Can You Fit in a Toyota Yaris?