2013 Honda Accord: First Look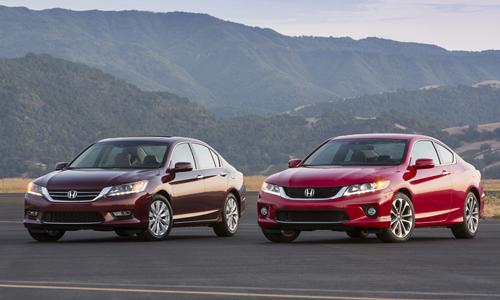 Competes with: Toyota Camry, Nissan Altima, Ford Fusion, Chevrolet Malibu, Hyundai Sonata
Looks like: Accord's rear end got a much-needed makeover
Drivetrain: 185- or 189-horsepower, 2.4-liter four-cylinder with six-speed manual or CVT; 278-hp, 3.5-liter V-6 with six-speed manual or six-speed automatic; front-wheel drive
Hits dealerships: Sept. 19 (sedan), Oct. 15 (coupe)
Honda redesigned the Accord for 2013, debuting the ninth generation of its popular family car amid a hotbed of competition. By sales volume, some seven out of 10 family cars saw redesigns for 2012 or 2013. The list includes household names: Chevrolet Malibu, Ford Fusion, Nissan Altima, Toyota Camry.
Honda hopes to recapture some of the sales momentum lost in an inventory-strapped 2011 with a lighter, more fuel-efficient and better-equipped 2013 Accord. With an automatic transmission, the four-cylinder Accord sedan gets an EPA-rated 27/36 mpg city/highway (26/35 mpg in the Accord Sport) — which is up 3 mpg in combined figures versus its predecessor in all but the Sport. It and comes standard with features like alloy wheels, dual-zone automatic climate control, a backup camera and Bluetooth connectivity.
The Accord follows a transition seen in the Altima, Malibu and Camry: Although new, the sheet metal identifies with the outgoing car. Thin headlights ensconce a familiar grille, with optional fog lights below — rectangular on the sedan, circular on the coupe. The tail sees the biggest shift, dropping clear-lens lights for white and red ones that recall the Hyundai Genesis sedan. The Accord coupe, meanwhile, gets vertical bumper reflectors similar to those on the Subaru Outback.
After a size increase for the prior Accord, the ninth generation shrinks a bit. The sedan loses 3.6 inches of length, while the coupe drops 2.2 inches. The smaller size combines with higher-strength steel, a lighter front suspension and other weight-saving measures that shave 57 pounds off the sedan.
Sixteen-inch alloy wheels are standard, with 17s or 18s optional. Uplevel trims have LED brake lights, while V-6 versions get LED daytime running lights. The top-of-the-line Accord Touring adds full LED headlights, a first for Honda. Stay tuned for a full breakdown of trim levels and pricing.
The interior trades the last Accord's stacked dash panels for a single wraparound piece with fewer center controls. Inlayed materials run from silver in the base Accord LX to a woodlike brown in the leather-lined EX-L. Coupes have beige or black interiors. Cabin volume decreases slightly in the sedan, but trunk room grows to 15.8 cubic feet — up 1.1 cubic feet from last year. In the subwoofer-equipped EX-L, it shrinks to 15.5 cubic feet. Cabin room increases in the Accord coupe, meanwhile, and trunk room increases to 13.7 cubic feet from last year's 11.9. The rear seat folds in a single piece, however, as opposed to the split-folding seats in most competitors.
A host of noise abatements — A-pillars mounted flush with the windshield, more hood and fender insulation — make the Accord "near the top of its class for quietness," Honda says. The automaker says aerodynamics in the sedan have improved 7% with the redesign.
Thinner A-pillars and reshaped mirrors help improve visibility, Honda says. Like in the Honda CR-V, the Accord's driver-side mirror sculpts outward at its edge for extra visibility.
An 8-inch dashboard screen runs the standard audio system, which includes USB/iPod compatibility, Bluetooth phone and audio streaming and an app for Pandora internet radio. Uplevel cars add a touch-screen below with the HondaLink system; it streams podcasts, audiobooks and more via your smartphone and internet radio provider Aha. Honda says it will include more apps down the road.
The Accord marks the first of Honda's new Earth Dreams drivetrains, with a direct-injection 2.4-liter four-cylinder serving as the base engine. It makes 185 horsepower in the Accord sedan and coupe. An Accord Sport, which slots just above the LX, makes 189 hp thanks to a dual exhaust system. Above that is Honda's 278-hp 3.5-liter V-6.
Gas mileage for the automatic sedan is 27/36 mpg with the four-cylinder — just short of the 27/38 mpg four-cylinder Altima — and 21/34 mpg with the V-6. That's up 11% and 4% versus the last Accord, respectively. Coupes and stick-shift cars rate 1 to 3 mpg less overall. The four-cylinder ditches last year's five-speed automatic for a new continuously variable automatic transmission, while the V-6 gets a six-speed automatic. A six-speed manual is available on the four-cylinder sedan and four- or six-cylinder coupe.
Major mechanical changes include new electric power steering, which replaces the outgoing Accord's hydraulic setup, and a strut front suspension replacing last year's double-wishbone.
Standard features include dual-zone automatic climate control, cruise control and various power accessories. Move up the trims, and you can get a moonroof, power seats, a navigation system, keyless access with push-button start and heated leather seats. Accord coupes have bolstered front seats and red accents on the gauges and center displays, but a power passenger seat remains unavailable.
Head-protecting side airbags, antilock brakes and an electronic stability system are standard. So is a backup camera. Safety options include lane-departure and forward-collision warning systems. The latter alerts drivers to oncoming obstacles, but it doesn't engage automatic braking, as some do. Honda's new LaneWatch system mounts a camera on the passenger-side rearview mirror to show two lanes of adjacent traffic. Honda says it displays a view that's about four times wider than the mirror alone.
Related
2013 Honda Accord Sedan Shrinks, Gets Plug-in Hybrid Model
More Honda News on Cars.com
More Automotive News
Clicking on any image below will launch a larger photo gallery; you can browse through them by hitting the right and left arrow keys.