2013 SRT Viper: First Drive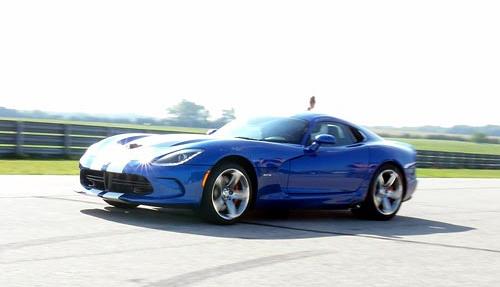 If you told me three years ago that I had written my last Dodge Viper review, I wouldn't have blinked. Certainly this noisy, crude, gas-guzzling ode to testosterone wouldn't survive an era defined by hybrids, soaring gas prices and its own manufacturer's bankruptcy.
No one counted on such a quick rebound for the Fiat-owned Chrysler Group or the lunatic vision of Fiat/Chrysler CEO Sergio Marchionne and designer/gearhead/leadfoot/executive Ralph Gilles, now the CEO of the SRT division. We found out at the New York International Auto Show earlier this year that the Viper would be back as a 2013 model.
As I made clear in what I thought would be my last Viper review, which was of the second-generation model in 2008, I liked the car. I respected it. But a car like that has no place in today's market. To make any sense at all, the 2013 will have to be more grown-up and refined. If my time in two development Vipers at South Haven, Mich.'s GingerMan Raceway is an indication, SRT has nailed it.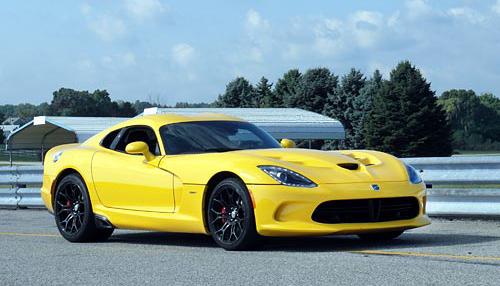 Technically, I have written my last Dodge Viper SRT10 review, but only because Chrysler continues its war on the Dodge brand by divesting its strongest and/or most iconic models. Like the not-Dodge Ram pickup truck, this car is now known as the SRT Viper.
The interior finishes weren't ready for photography and some exterior quirks reinforced that these are very early engineering vehicles, but the chassis and powertrain are essentially done. Some tweaking is sure to continue, but with the exception of an overbearing exhaust resonance at high rpm, I didn't notice much I'd change. (The exhaust work isn't complete, and I actually prefer the car's low-rev sound over that of the 2010 model.)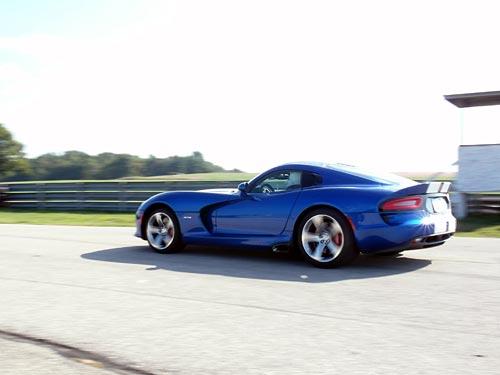 After a few refresher laps in a 2010 Viper, the last model year for gen two, I took about a dozen laps in a yellow base Viper, which bears only an SRT badge, and a blue uplevel Viper GTS. Both were coupes, as the convertible will be introduced later. Pricing will be announced in about a week; all we know now is the difference between the two trim levels will be around $20,000. When new, the 2010 Viper coupe started at $91,935 including the destination charge. The car's exclusive use of a manual transmission is sure to narrow its audience more than its price. And so it should be.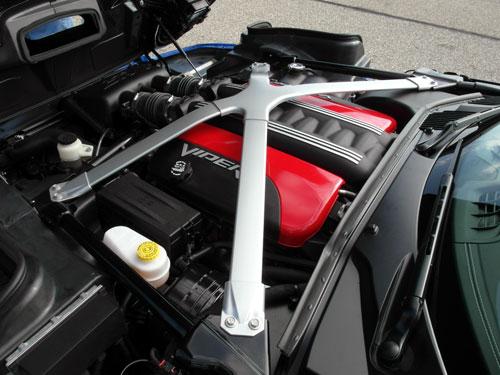 The difference between the two generations couldn't be clearer. Though they both have 8.4-liter V-10 engines with outrageous output that allows them to be driven up to 60 mph in 1st gear (and enough torque to drive in virtually any gear at any speed), the 2013's dynamics are a world above.
Frankly, the 2010 felt more controllable than I remembered, but in modern times it's squirrely by practically anyone's standards, and it's exceptionally sensitive to abrupt inputs of any sort. What always troubled me about the earlier Vipers was their unpredictability and inconsistency, with a tendency to break into oversteer/understeer tugs of war with the driver in the middle and yanked in either direction.
You could comb over every inch of the car like the Zapruder film and make a career of driving it like the Millennium Falcon trying to detonate the Death Star from within — and still approach it with trepidation every time you got in it. Having mastery over a car is always an illusion, but if it seems an impossibility, the challenge seems pointless. Ultimately, so can the car itself.
That's changed. The 2013 has all the acceleration fury of the 2010 — more, actually, with 640 horsepower and 600 pounds-feet of torque, up from 600 hp and 560 pounds-feet, thanks to a host of engine upgrades that lead its engineers to say it's practically a new engine. The difference here is the car's ability to manage its power and weight. From the first turn, its composure is evident. On the 50th, so is its consistency.
For 2013, the six-speed Tremec transmission has closer gear ratios, and gone is the previous car's StairMaster-style clutch-pedal resistance. (No longer will asymmetrical Viper owners be picked easily out of a crowd.) Along with the lighter clutch comes a more satisfying shorter stick with shorter throws and more precisely defined gates. SRT says the center console itself is a bit lower too, but that depends on where you position the new sport seats, which are now height-adjustable, either manual or powered.
Equipped with the optional Track Package, the yellow car included lighter wheels (25 pounds in front versus more than 30 pounds stock), two-piece slotted brake rotors and stickier tires: Pirelli P-Zero Corsas. Regardless of trim and equipment levels, the tires measure P295/30ZR18 in front and a barn-wide P355/30ZR19 in the rear, and the brakes comprise the same four-piston calipers and disc diameters, all supplied by Brembo.
The car turns in smartly, and just as the engineers claim, the steering feels faster even though the ratio hasn't changed. Credit belongs partly to stiffer torsional rigidity and a redesigned rear suspension that combats compliance steer. A wider front track minimizes understeer.
The brakes provide exceptional bite from minimal pedal travel, especially compared with the 2010 model.
I learned more from the GTS, which wore the standard tires (also P-Zero, but not Corsa) and had multiple settings for the electronic stability system where the base car's is only on or off. (As required by law, even the Viper now has stability.) When turned on, the base model's stability is admirably unobtrusive, but the GTS adds two more liberal settings in between, Sport and Track. The Track setting, SRT says, will even let the car spin out. I stuck to Sport. There's also a standard launch control feature for the fastest possible sprints, but it hasn't been calibrated fully and wasn't testable yet.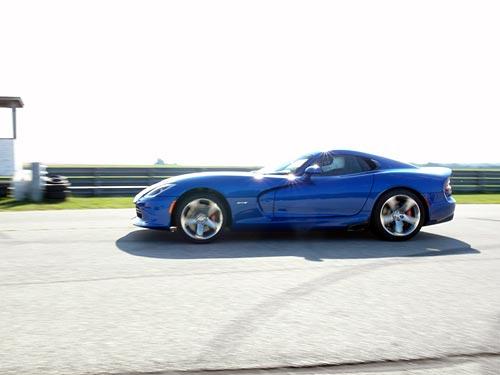 Between the less conservative stability setting, street tires and the GTS' upgraded two-mode suspension's more compliant Street setting, I was able to toss the car around more, which revealed its better manners. No amount of rubber can keep this much torque in check, and while the rear end loosens up, it tucks back in line more predictably.
The 2013 is about 100 pounds lighter through liberal use of carbon fiber, aluminum and magnesium over a steel frame. But it feels lighter still, and the weight distribution is now 49.6/50.4 percent front/rear. In the Viper, the driver sits well behind the car's yaw center, which seems to heighten one's sense of what the car's doing — once you adapt to it.
Between its better steering feedback and newfound spirit of cooperation, driving the 2013 Viper feels a lot more like teamwork. In the old car, it was like playing with a ball hog — one that occasionally went off to do its own thing, which too often involved an aversion to pavement.
Sadly, I didn't drive the cars on the street, but the base model felt reasonably comfortable, and there's a dramatic difference between the GTS' comfortable Street and firm Track settings.
Many would argue the Viper always needed stability control. Now it has it, and though it needs it less than it did before, the 2013 Viper still seems to have a narrow margin of error. It's a car that needs to be learned over time and many laps, and I consider this a very good thing. No one wants a tame Viper. There's no shortage of tame sports cars on the market. But we do want a tamable Viper, and the previous generations didn't bear that trait.
If Dodge improved the Viper a notch between the first and second generations, then SRT has raised it five notches this time. I'm still not sold on the new car's styling, but anyone for whom love is blind will find a lot to love here. There are devotees who will always buy the next Viper. For those who were on the fence, it's time to get excited.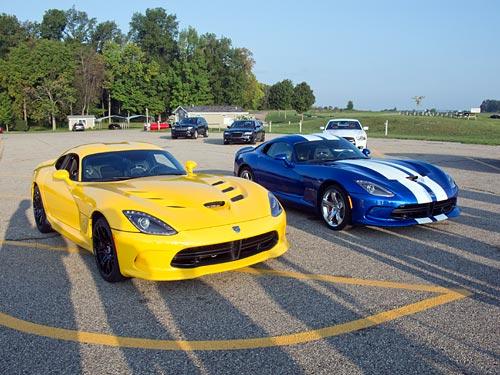 Related
2013 SRT Viper Video
2013 SRT Viper: Photo Gallery
Research More Sports Cars