Five Cars Perfect for Golf Foursomes
The Ryder Cup starts this week at the Medinah Country Club in Medinah, Ill., and signals that — for much of the country — golf season is at an end. But before you pack up your clubs for the season — or if you're lucky enough to live in a state conducive to year-round golf — here are five cars that are perfect for a golf foursome thanks to a roomy cabin and most importantly, a giant trunk.
Editor's note: All five models have been tested by our staff for trunk space while new models like the 2013 Toyota Avalon and 2013 Lexus LS have not. Our list below is sorted by trunk space.
2013 Chrysler 300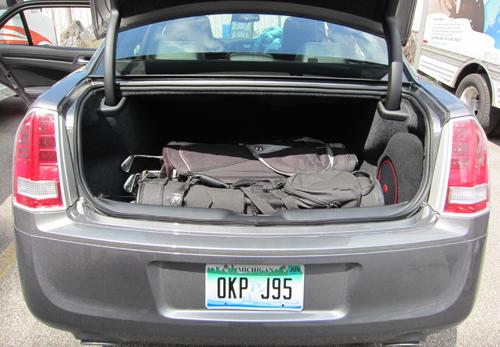 There's still a bit of "country-club" style around the parking lots of most golf courses. Even cars at public courses often lean toward elegant versus edgy in terms of styling. The 300 is a big sedan with a bold design that draws from large cruisers of the mid-1900s. Style doesn't trump substance because the base 300 now comes well-equipped with leather seats and other luxury features. The trunk at 16.3 cubic feet is large enough for four bags but don't expect much room left over for luggage.
2012 Hyundai Azera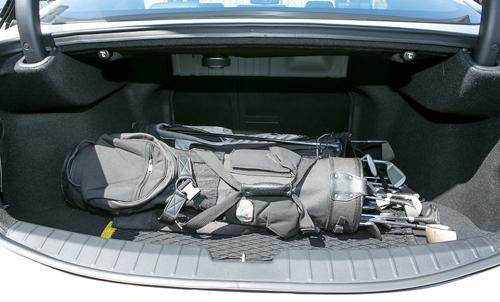 The redesigned Azera hits a lot of practical points for its mileage and content for the price, but its selling point is the sheer amount of interior room. Your three golf buddies won't want to trade the interior confines for a vinyl-wrapped golf cart bench seat. Its trunk is rated at 16.3 cubic feet, as well.
2013 Mercedes-Benz S-Class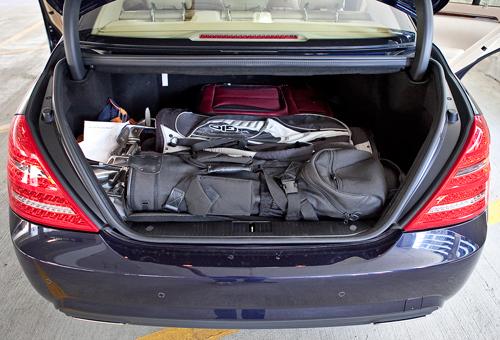 You'd think any large luxury sedan would be golf-worthy, but the trunks of the Audi A8 (13.2 cubic feet), BMW 7 Series (14 cubic feet) and Jaguar XJ (15.2 cubic feet) don't best any of our picks for foursomes. The venerable S-Class, however, is packing 16.4 cubic feet of trunk space while the famed Mercedes emblem on the hood shouts "country club" more than any other we can think of.
2013 Cadillac XTS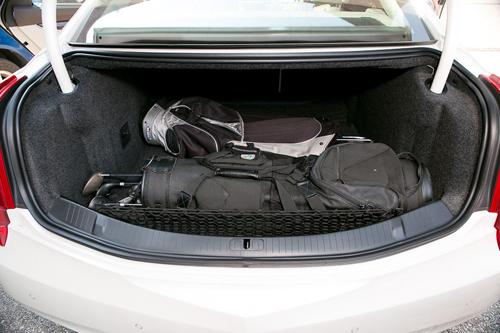 A newcomer to the market, the XTS was almost custom made for golfing duties. It's a large Cadillac sedan with an 18-cubic-foot trunk perfectly oriented for laying clubs vertically on the floor. The rear seats are comfortable with tons of legroom. A dazzling multimedia system will likely wow the passengers and has a hidden compartment perfect for stashing your cellphone, watch or anything else you don't want to bring onto the course.
2013 Ford Taurus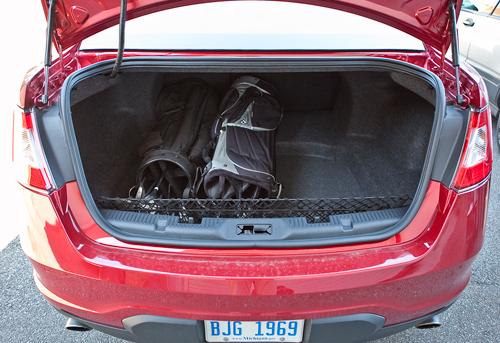 There's no denying it. The Taurus has trunk. At 20.1 cubic feet, the Taurus has one of the largest trunks of any cars on the market; it's more than big enough to fit four bags and luggage for a weekend trip. The interior is a little more claustrophobic than the other cars on the list, but adults will still be comfortable on the way to the links.
Related
Research More Sedans
Cars.com Lifestyle Buying Guide
Follow Cars.com on Facebook