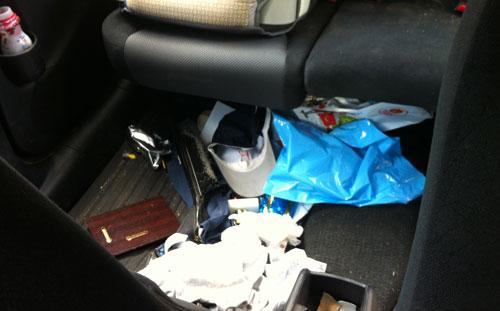 In theory, the Honda Fit's second row — with bottom cushions that fold up for added storage on the go — sounds like a winner. After driving a Honda Fit for the summer and loading the backseat with my two school-age boys and all their stuff, it's a wannabe neat-freak's nightmare.
As one of the judges in Cars.com's $16,000 Subcompact Shootout, I was impressed with the Fit's ability to carry cargo of all sizes; the flip-up cushions allow the Fit to haul taller items, like a kid's bike. The rear seats are hinged at the seat bight, where the back and bottom cushions meet, and the front of the bottom seat cushion is supported by foldable metal legs that remind me of a lawn chair.
It sounds great, but it's that design that has caused all sorts of problems in our family car, which serves as a rolling locker room for my baseball-playing son and his father (the coach).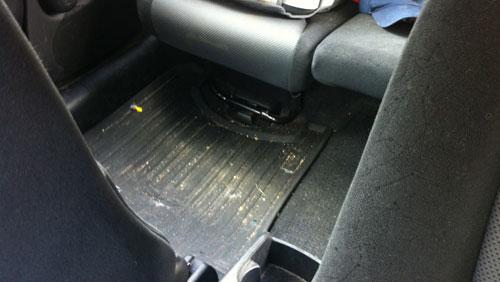 In many backseats, there's no storage space under the bottom seat cushion. In the Fit, the space is oddly shaped — so far, I haven't found a bin that will fit securely under the seats — and it seems to create a black hole for kids' stuff.
Here's what I found in our Pit of Despair (as I like to call it) in one end-of-summer cleaning:
2 baseballs
1 pencil case
1 pair of boys' shorts
1 pair of baseball sliding shorts (clean, thankfully)
3 baseball caps
2 baseball trophies
1 awards plaque
1 T-shirt
2 Clif bar wrappers
2 empty Capri Sun pouches
1 empty plastic cup with lid
2 plastic bags
1 empty Happy Meal bag
1 snow scraper
Assorted food crumbs
On the plus side, when my boys were thirsty while in the car recently, they dug around in the black hole and managed to find an unopened bottle of Gatorade. Maybe the Pit of Despair serves a purpose occasionally.
Related
Research the Honda Fit
Cars.com's $16,000 Subcompact Shootout
More Family News