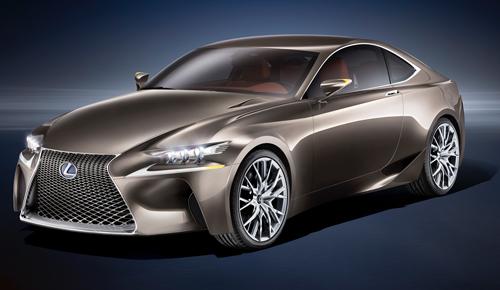 Looks like: A luxurious version of the Scion FR-S/Toyota GT-86
Defining characteristics: Rear-wheel drive, full-hybrid, midsize coupe
Ridiculous features: The gaping spindle grille; whatever happened to front bumpers?
Chances of being mass-produced: 100%, Lexus is working on a midsize sports coupe
In a bid to bring a bit more fun to the Lexus lineup, Toyota's luxury brand will debut a new entry-level luxury coupe in the coming years. Today, we get a first glimpse of what that midsize coupe and other future Lexus models will look like via the Lexus LF-CC. Details about the brand's all-new hybrid powertrain also were released.
The LF-CC is essentially a more practical version of the LF-LC concept. The LF-CC is smaller than the last concept and designed around an actual future Lexus platform that'll be used on midsize entry-level models. In addition, the concept is theoretically powered by a real hybrid powertrain.
The model features an updated interpretation of Lexus's "L-finesse" design aesthetic, which we've seen on the LF-LC and LF-Gh. You really need to look at the headlights up close to see the amount of ornate detail in the forward illumination system. There are three lamps for each headlight and all are housed in independent LED modules. There's no conventional housing cover, which gives the concept a bug-eyed look. I guess it's a great accompaniment for the spindle grille.
Right below the headlights are daytime running lights that seamlessly integrate into the top of the front fenders. Speaking of the spindle grille — a design first worn by the 2013 Lexus GS and then the refreshed 2013 Lexus RX — this one is the most ambitious application yet. As far as we can tell, the front bumper lacks a center reinforcement. Even with lax front bumper regulations, this bumper is probably unacceptable for a production model. Expect it to be tamed down a bit.
The rear taillamp housings resemble webbing and a shark antenna that also doubles as a center rear stop lamp. It's very gnarly. While the front and rear of the LF-CC are unique, the side profile and upper rear-deck smack of Scion FR-S/Toyota GT-86. If Lexus didn't explicitly state that this model was much larger than the Scion, we'd think it was a heavily reworked variant. The derivative side profile is probably just a case of aerodynamics trumping design or maybe Toyota's designers got lazy.
Lexus says the interior features a new aesthetic that will slowly make its way to future models. It'll feature a cacophony of displays, multimedia controls and a driver-oriented cockpit area. No interior photos were provided, however.
The LF-CC features an all-new hybrid powertrain, according to the carmaker. It's a 2.5-liter inline-four-cylinder with direct injection that was built specifically for hybrid use. The engine is mated to a high-output, water-cooled electric motor.
We'll have more photos and information about the Lexus LF-CC concept once the 2012 Paris Motor Show gets underway later in September.
Related
Lexus LF-LC Concept at the 2012 Detroit Auto Show
Lexus LF-Gh Hybrid Concept at the 2011 New York Auto Show
Could the 'Year of Lexus' Include a Hybrid Sports Car?