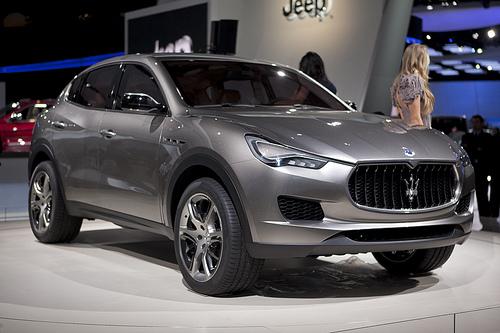 At the Paris Motor Show today, Maserati confirmed a name for its first SUV: the Levante. Maserati named it after a street in Bologna, Italy, where Automotive News notes the Maserati brothers moved the brand's offices in 1919. The Levante is the production version of Maserati's Kubang SUV concept (above), which we saw at the 2011 Frankfurt Motor Show.
Maserati has yet to reveal any specifics on the production Levante besides its name, but the automaker promised the Kubang's Jeep Grand Cherokee underpinnings (Fiat controls Maserati and Jeep parent Chrysler) would mean virtually nothing to Maserati's production SUV. The automaker claims it'll be 100% Maserati and to its credit, the Kubang looks nothing like the Grand Cherokee.
Maserati fans can exhale now that the SUV won't be called Kubang — possibly the easiest target for jokes since the Ford Aspire. The automaker also confirmed that a "new high-end E segment" four-door sedan will be called the Ghibli, resurrecting a nameplate from the 1960s and 1970s and then again in the 1990s. It will likely slot beneath the Quattroporte sedan, which Maserati confirmed it will redesign. The current Quattroporte has been around since mid-2004. Maserati didn't reveal further details or any on-sale date for the Ghibli or next-gen Quattroporte, but we'll let you know as we learn more.
Related
More Coverage of the Paris Motor Show
Maserati Kubang Concept: Photo Gallery
More Automotive News