NHTSA to Crash Test 54 Model-Year 2013 Vehicles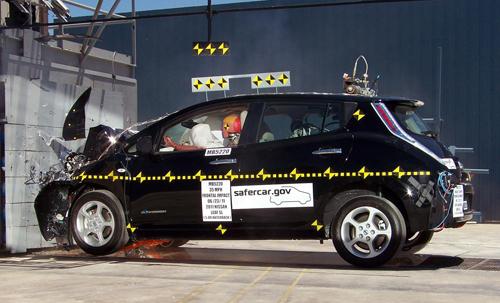 The National Highway Traffic Safety Administration says it'll crash-test 54 vehicles — 33 passenger cars, 16 SUVs, one van and four pickup trucks — for the 2013 model year, according to the Detroit News.
That's less than the model-year 2012 rate of 74 vehicles, but equal to its 2011 crash-test count. NHTSA says that the crash testing will account for about 85% of the volume of new vehicles sold for the year.
Detroit News is reporting that the models to be tested include the Nissan Leaf, Ford Fusion Electric, Ford C-Max Hybrid and C-Max Energi, Honda Accord, Mercedes-Benz C-Class, Dodge Dart, Cadillac ATS, Fiat 500, Toyota Prius c and v, Volkswagen Beetle, Mazda CX-5, Jeep Patriot, Ford Escape, Chevrolet Traverse, Ram 1500, Chevrolet Silverado 2500, BMW X5 and Toyota Tacoma.
In 2010, NHTSA adopted more stringent guidelines and rigorous testing practices, making it tougher for vehicles to get five stars, its highest rating. NHTSA's composite scores comprise a five-star rating for frontal, rollover and a combined side pole and barrier tests. The side pole test simulates a 20-mph side-impact crash into a 10-inch-diameter pole (which simulates a tree) at a 75-degree angle just behind the A-pillar on the driver's side.
In its tests, NHTSA now makes an effort to point out additional safety features, such as lane departure warning and forward collision warning systems.
Related
NHTSA to crash test 54 new model year vehicles (Detroit News)
NHTSA Announces List of 2012 Vehicles to Be Tested
New NHTSA Safety Ratings Released