Nissan Previews Terra Fuel-Cell Concept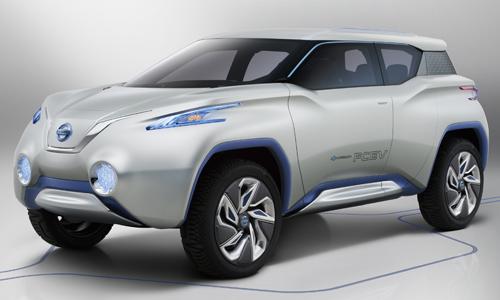 Ahead of the Paris Motor Show, Nissan released details of a vehicle it plans to debut there: the Terra concept. The compact SUV has from-the-future styling and a fuel-cell powertrain.
Partially powering the hydrogen-electric concept is the Nissan Leaf's EV system. It drives the front wheels; two in-wheel electric motors drive the rear. A hydrogen fuel-cell pack is under the hood.
Nissan calls its styling "athletic eco" and says it wears a look called "Modern Toughness," but the Terra's snout nose, chunky rear and flat roof give it an awkward look. Things get weirder inside.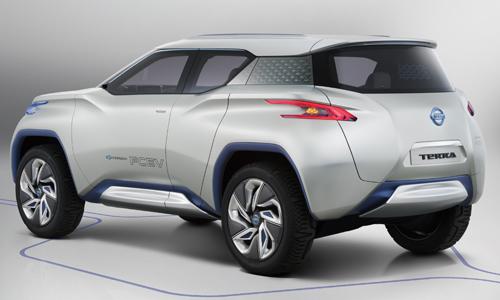 The four-door has two traditional front doors and two rear-hinged rear doors. Inside, passengers sit in a diagonal layout: Rear passengers are off-set and positioned over the shoulders of the front seats.
Blond wood and chrome line the seats and cabin. Nissan must be targeting Ikea shoppers: The automaker said the seats fold flat, "presenting no obstacles to carrying bikes, kayaks or assemble-yourself furniture from Scandinavia."
The instrument panel is an electronic tablet; the driver docs it upon entering the car and takes it when leaving. It also acts as the key. When docked in the Terra, it displays the vehicle's speed as well as entertainment, navigation and communication options.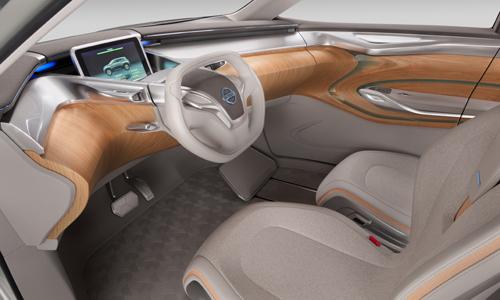 Nissan has no plans to bring the concept to production, but didn't rule out a production fuel-cell vehicle in the future. "Terra is purely a concept car, but it signals that Nissan is ready to mass-produce fuel cell electric vehicles whenever hydrogen becomes widely available," the automaker said in a statement.
The Terra will officially be unveiled at the 2012 Paris Motor Show on Sept. 27.
Related
Research the Nissan Leaf
More Nissan News on Cars.com
More Automotive News on Cars.com