Now Is the Time to Buy a Used Ford Crown Victoria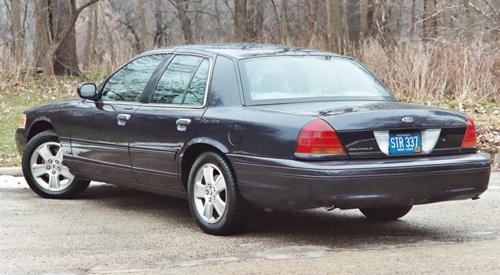 Late-model used-car prices continued their decline in September, the third straight month of retreat after a run-up in prices during the spring. From Aug. 1 to Sept. 1, prices declined, on average, $218 — about 1% — to $21,959, but prices for the Ford Crown Victoria dipped 12% over the same period.
The Crown Vic was last sold new to consumers as a 2007 model, but it managed to make this list of 2009-11 cars because it was still sold to fleet operators until production ended a year ago. The car's 12% price dip shaved nearly $1,700 from its average asking price. Its sibling, the Mercury Grand Marquis, had the second-largest price drop, an 8% decline that cut more than $1,300 from its average asking price. It appears sellers are itching to rid themselves of Ford's ubiquitous full-size sedans.
This series typically focuses on cars with the greatest price declines, but we did uncover a significant price spike for used Lexus RX 350s. The average asking price for the luxury crossover jumped nearly $6,000, and the 18% increase was more than triple the next biggest percentage increase. It's unclear what's driving this price surge, especially considering the crossover's styling has been significantly updated for the 2013 model year with Lexus' new hourglass grille design, making the difference between used and new models even more pronounced. Perhaps shoppers prefer the old look.
The chart below details the top 10 used cars from the 2009 to 2011 model years with the biggest price drops — as well as the 10 with the biggest increases. To be eligible for the list, a model needs to have 500 cars in Cars.com's national inventory.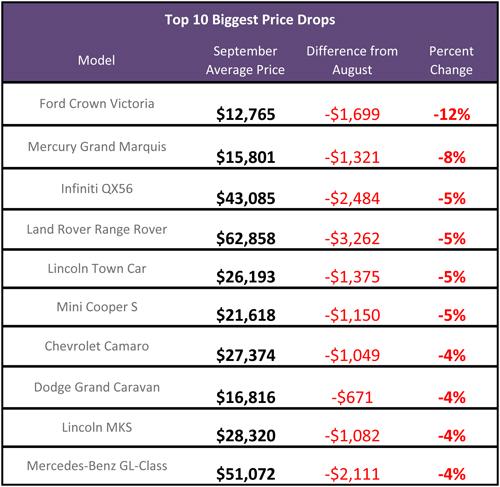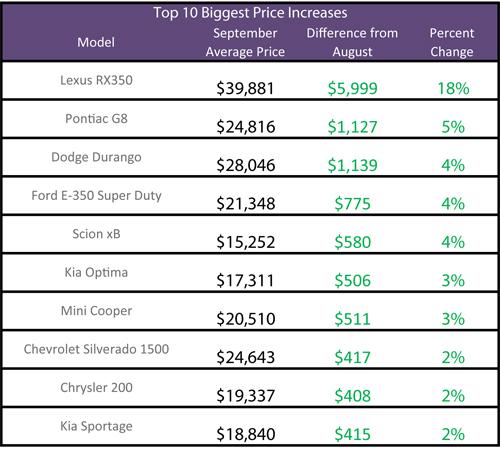 Source: Cars.com used-car listings, 2009 to 2011 model years
Related
Research the 2007 Ford Crown Victoria
Research the 2011 Lexus RX 350
More Automotive News