2013 Hyundai Santa Fe Sport: Review Notes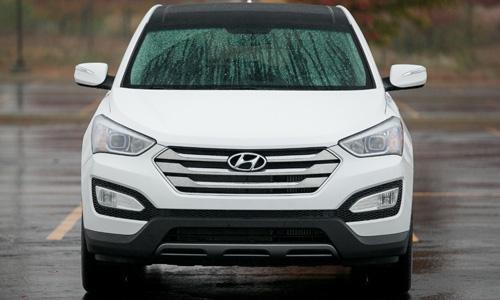 Hits:
Styling update gives it a dynamic look inside and out; turbocharged engine is refined and powerful
Misses:
Second row could be bigger
While the old Hyundai Santa Fe was a nice, comfortable vehicle, the competition had clearly passed it by the last couple of years. A 2013 redesign changed all that and injected the midsize crossover with some much-needed style and pep.
I reviewed the five-passenger Santa Fe Sport and awarded it big points for its zippy turbocharged engine, high-quality interior and roomy backseat. In fact, it was tough to find anything not to like.
It's not all about me, though. Sigh. The rest of the editors have had the chance to drive the Santa Fe Sport too; were they as taken with it as I was?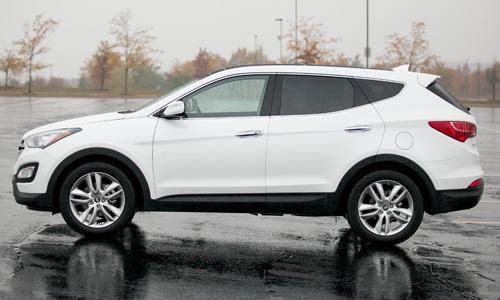 It turns out the Santa Fe Sport was a staff favorite. The crossover lost its V-6 for 2013, but its new turbocharged 2.0-liter four-cylinder won me over during my test drive in Utah's mountains; our Chicago editors also thought it was strong. "I was really impressed with the performance of the turbo four-cylinder engine, especially considering the size of this crossover. It accelerates strongly — you don't miss a V-6 at all," said editor Mike Hanley.
Editor Joe Bruzek noted a "pleasant lack of torque steer from the powerful turbocharged engine." So did Editor-in-Chief Patrick Olsen who had "test-driven the earlier generation and was underwhelmed."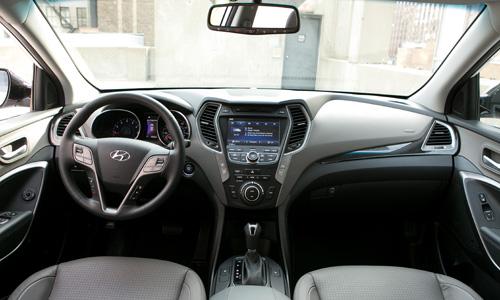 The cabin was another nearly unanimous bright spot. "Everything about it screams that it's perfectly executed like the sporty gauges, easy-to-use multimedia system and comfortable seats," Managing Editor Dave Thomas said. Hanley also thought the optional touch-screen multimedia system was well-executed. "The center touch-screen has great graphics, but more importantly I like that it's within easy reach of the driver because of the upright dash design," he said.
We're divided on the crossover's second row. A sliding and reclining seat means passengers can get comfortable, but some editors thought it wasn't as roomy as expected, especially since the seat slides 5.2 inches for more legroom. Olsen said it was a tight fit for five adults "with the person in the middle of the second row feeling very cramped."
There's plenty of room in the back for kids, though. A mom of two, editor Jennifer Newman "was particularly surprised by the second row; it has seats that slide forward and back — and the legroom seems endless." Installing two child-safety seats wasn't a problem for Thomas either, though he noted that "the rear seats could have more room."
Overall, we thought the Santa Fe Sport was both fun to drive and comfortable. It looks like Hyundai has another hit with its crossover, thanks to "big improvements in interior quality and competitiveness," Olsen said.
The automaker has been on a roll lately and it can add the Santa Fe Sport to its list of successes. "The revitalization of Hyundai's heritage names like Sonata, Accent and Elantra have all been successful, so the Santa Fe's success shouldn't be surprising." Bruzek said.
Related
2013 Hyundai Santa Fe Sport Review
2013 Hyundai Santa Fe Sport Priced at $25,275
More Hyundai News on Cars.com