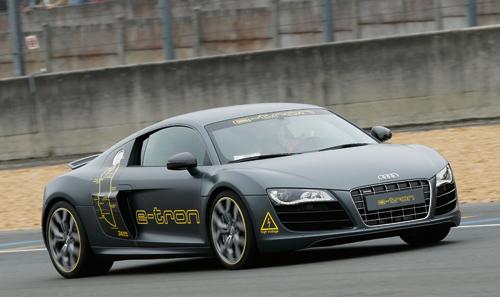 If the idea of an electric supercar sounds crazy to you, it probably is. Audi has just come to the same conclusion. Wired is reporting that the automaker has canceled plans to mass-market an electric version of the
R8
.
The R8 e-tron debuted three years ago at the Frankfurt Motor Show, and continued to appear on the auto-show circuit over the last few years. A limited-production version was set to hit the streets at the end of this year.
Power came from four electric motors — two on each axle — and a large lithium-ion battery pack that sat behind the passengers. Audi put total output at 313 horsepower and boasted a zero to 62 mph time of 4.8 seconds.
According to the automaker, the R8 e-tron could be charged on a 240-volt household outlet in six to eight hours. "In the final design stage of the Audi e-tron, the battery will enable a range of about 250 km (155.34 miles)," the automaker said in a statement.
Sounds plausible, right? Not according to Wolfgang Dürheimer, Audi's new head of research and design. Wired reports that the change in management as well as range issues and a shifted focus toward plug-in vehicles is what ultimately killed the program. According to Wired, Audi is developing plug-in hybrid versions of the A1, A3, A4, A6 and Q7 SUV in place of its electric car program.
Related
Audi Ditches Plans to Sell Electric Supercar? (Wired)
Audi Puts e-tron On Le Mans Track
Audi e-Tron Concept at Frankfurt Motor Show