Forza Horizon: A 1995 Toyota Corolla Never Looked So Good
The Forza series of racing games for Xbox has always nailed the translation of sports cars into the video game world. The way cars look, feel and sound can successfully rope any gamer into Forza for hours and days on end. The series' latest installment, Forza Horizon, is no different. This time, the racing environment is a simulated slice of Colorado city streets and mountain roads that replace the traditional racetrack environments of past Forza games.

Populating this open world of back roads, multilane highways and dirt paths are pedestrian cars — pesky drones that fill the streets to give life to the city and rural environments. In Horizon, though seemingly unimportant, pedestrian cars like a Toyota Prius have just as much detail as the game's drivable Ferraris and Corvettes.
Most video game "filler cars" are graphically devoid, rolling bricks used like bowling lane bumpers to stay on the road in the heat of competition. In Horizon, the pedestrian cars are ones you'll recognize from the real world, down to specific model year and trim level.

Horizon's pedestrian cars are still rolling bumpers to crash into, but they're very good-looking bumpers. Roll up hot on a 1995 Toyota Corolla, and a "DX" trim-level badge is visible on the backside moments before a collision that sends glass and accessories flying all over the road. The Ford Taurus is the performance SHO trim with appropriate wheels and appearance features. The Nissan Leaf has the $150 accessory "Zero Emissions" graphics in the correct portion of the lower door.
The realism of Horizon's civilian cars is a testament to the rest of the game's extraordinary attention to detail. Despite the great detail, it's still not enough to make me want to drive a virtual Prius or most other civilian cars in the game; crashing into them after attempting a top-speed run in a 1964 Aston Martin DB5 is fine enough.

Below is a complete listing of auto-piloted pedestrian vehicles in Forza Horizon that are ripe for players to pick on or get destroyed, thinking the F-350 will move out of the way first.
What about the rest of the game? It's massive, fun and never gets old with a never-ending list of races and challenges to master. I've played for roughly five hours and have driven on only half the roads. Cars drive more arcade-like than the previous Forza 4 simulation style, but it's not detracting enough to ruin the fun of launching a 1967 Chevrolet Corvette off a dirt mound into a house.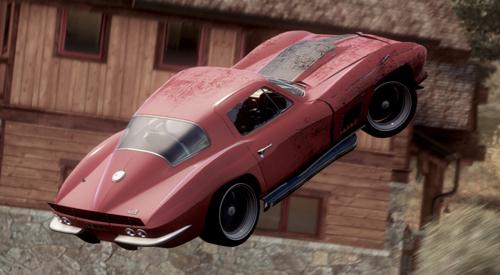 Forza Horizon Pedestrian Cars:
2004 Chrysler PT Cruiser GT
2011 Toyota Prius
2010 Ford Taurus SHO
2004 Toyota RAV4 Sport
2004 Audi A4 Avant
2004 Volkswagen Beetle
2010 Ford Explorer
2008 Ford F-350 Super Duty
2007 Toyota Camry
2005 Ford Focus ZX4
20012 Kenworth T440
2012 Tour Bus
1999 Dodge Durango SLT
2001 GMC Yukon XL
2005 Chevrolet Express 2500 Cargo
1995 Toyota Corolla DX
2012 Volvo XC70
2011 Nissan Leaf