Free Fuel for Honda Civic Natural Gas Customers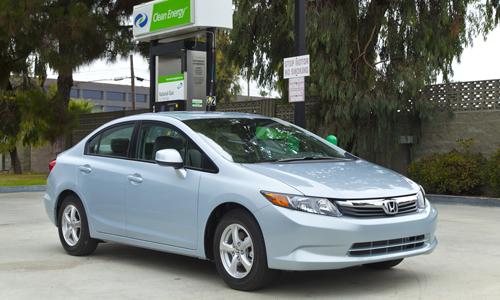 Honda is taking a unique approach to moving its
Civic Compressed Natural Gas
sedans off dealer lots: The automaker is offering a lot of free natural gas with a vehicle purchase. Honda and Clean Energy, a compressed natural gas supplier, are partnering to offer buyers of 2012 Civic CNGs a $3,000 fuel card.
According to the automaker, Clean Energy is America's largest owner of public CNG fueling stations. The debit card is valid at the 40 Clean Energy stations in Southern California and the company's other 160 stations nationwide.
The Civic CNG is the only factory-built natural-gas-powered sedan in the U.S. According to Honda, it can be refueled in a matter of minutes and can drive an average of 200 miles on a tank of fuel.
According to the Department of Energy, the national average price of an equivalent gallon of natural gas was $2.05 in July. Honda also reports that 98% of the fuel consumed in the U.S. was made in the States.
The vehicle itself, however, is expensive. Model-year 2012 CNG Civics start at $27,095, including a $790 destination charge. There's a lot of added content to the model, but it still costs a lot more than a base Civic sedan, which starts at $16,745, including destination.
Sales figures reflect the tough sell: Though sales of the CNG Civic are up this year, so far Honda has sold just 1,576 units. It's sold 234,029 units of regular and hybrid Civics in the first nine months of the year.
The Civic CNG is on sale at 199 Honda dealerships in 36 states. The $3,000 fuel card incentive ends Jan. 2, 2013, or sooner if supplies run out. The card never expires. Locate a Clean Energy CNG fueling station near you.
Related
Research the 2012 Honda Civic CNG
More Honda News on Cars.com
More Alternative Fuel News on Cars.com