Compact SUV Shootout Family Buys Honda CR-V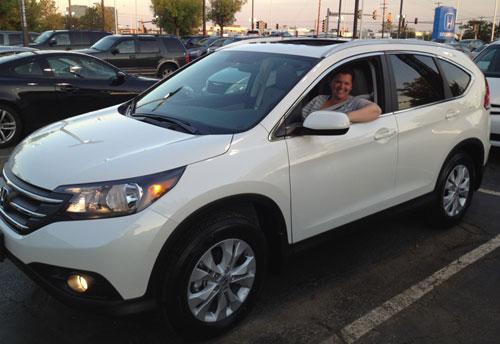 The Honda CR-V won Cars.com's $25,000 Compact SUV Shootout earlier this year, and the automaker just won again on a smaller scale when the Shootout's test family, Nicholas and Erin Ravelingeen, recently purchased a 2013 Honda CR-V.
"All around, the Honda just felt like the best fit for us ... because of the styling and mostly because of the reliability factor," Erin said in a phone interview. "It didn't hurt that it was comfortable and good looking."
During the Shootout, the Ravelingeens happened to be in-market shoppers who wanted to replace their aging Chevy Tracker. They examined and test-drove the six competitors and shared their preferences with the judges.
After spending a day test-driving the SUVs, they thought the CR-V was the best fit for their family. Once they saw the Shootout results, which were published on Cars.com and in USA Today, "it really solidified our decision," Erin said.
The couple was so sold on the compact SUV that when it came time to buy last week, they didn't bother looking at any competitors, she said.
The Ravelingeens bought a 2013 CR-V EX-L with all-wheel drive. "Every day that we drive it, there's something we like more and more," she said. The couple has been syncing their smartphones with the CR-V's Bluetooth and enjoying the complimentary XM Satellite Radio.
"For us, doing the Shootout was truly like the best-case scenario," Erin said. "It was really a pressure-free situation.
"I think it will definitely change the way that we look at a car," Erin said. "The family-friendliness, the comfort level ... if you really think about things more broken up that way [where] you can see what some cars have and what some cars are lacking."
Erin said her husband really appreciates that the CR-V's rear doors open a "full 90 degrees," making it easy to get child-safety seats into the car. Their children — Trudy, 4, and Mason, 2 — love the CR-V. "My little guy can see out of the window; he'd never been able to see out the window before."
Related
$25,000 Compact SUV Shootout
Meet the Family: The Ravelingeens
Research the 2013 Honda CR-V