School Sports Make In-Car First-Aid Kit a Must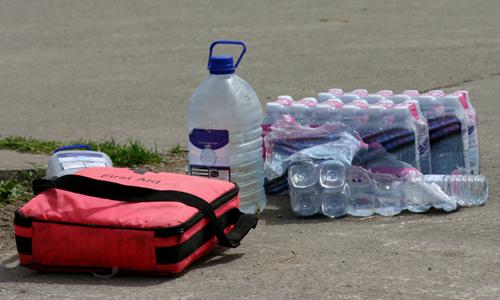 The school sports season is back in swing with baseball diamonds and soccer and football fields once again full of colorful but small uniforms. Along with the season comes many scrapes, bumps, bruises and other more severe injuries that we as parents need to be ready to deal with on the fly with supplies scrounged from the car.
My youngest daughter (age 8) plays soccer and occasionally skins a knee. Ironically, my 12-year-old ballerina requires me to be on-call at her practices and performances with a slew of athletic tape, Ace bandages, knee braces and more to deal with reoccurring dislocated kneecaps, pulled and torn muscles, ripped and infected blisters, broken toes and more.
This year I've decided to be better prepared and actually put together a family first-aid kit for my car. I've polled our Cars.com Family writers and my sister-in-law who has two boys and a husband who all play lacrosse to help me prepare the perfect in-car first-aid kit.
While we all have our standout favorite products, one thing we agree on is multitasking products are a must! Here's what we recommend:
Band-Aids: Choose your favorite variety from extra-strong for the teenagers to cartoon character bandages for the little ones. These obviously help with any type of scrape, cut or blister — not to mention the psychosomatic effect that "fixing a boo-boo" with a Band-Aid has on a toddler. I've also stocked my kit with waterproof blister bandages that stay on even under sweaty ballet shoes.
Antiseptic wipes: Not only are these essential for wiping dirt, gravel and rubber turf nubs out of cuts, they're an essential in the car, period. I stock up on all-natural lavender antiseptic wipes for first-aid purposes, but they also work wonders to clean a sticky mess off of leather car seats, free little hands from Pirate's Booty grime or even disinfect the car door after a ride with a carsick puppy (don't ask).
Neosporin: All the moms agree that Neosporin is a necessity. Just swipe a little on before covering a scrape with a Band-Aid and infections are pretty much guaranteed to run and hide.
Topricin Junior: This is a lesser-known product that my family and I have fallen for. It's an all-natural healing cream that can be used to chase away pain from muscle strains, sprains and spasms; soft-tissue injuries; swelling and bruising; growing pains; vaccination injection site pain; burns; insect bites; diaper rash; and eczema. You can pretty much put it on anything and expect less pain.
Ibuprofen: This helps to stave off pain and swelling before it turns into a bigger problem. It's also a necessity for the driving mom or dad when sensory overload from car full of kids hopped up on post-game adrenalin and the glaring sun starts to bring on a migraine.
Benadryl: Several of us Cars.com Family writers have kids with allergies, which makes us believe the majority of the population must have to deal with this, as well. For those bug-laden evening games at the park, this is a must for my family that includes a child with a severe mosquito allergy. When my girls were little I kept single-dose, disposable Benadryl spoons in my purse and in the car's glove box. Now that my kids are older, the fast-melt tablets are easy to keep in the car's first-aid kit.
Sports tape: While I often use this to wrap up feet with skin that has angrily peeled off in protest of too much dancing, I'm informed that it's also a great quick fix for broken lacrosse sticks and other sports gear.
Tweezers: Not only are they helpful for pulling out the ever-present post-tree-climb splinters (real or imagined) and for the impromptu eyebrow pluck (on mom, not the kids), one of our Family reviewers recently put them to good use extracting edamame from her daughter's nose. Like I said, multitasking!
The kit itself doesn't need to be pretty. You can keep the products in a reusable grocery bag, spare tote or outgrown backpack. What other essentials do you keep in your family's in-car first-aid kit? Tell us in the comment section below.
Related
More Family News
AAA Finds Car Seats Aren't Any Easier to Install
Tips for Safe Winter Driving