Top 10 Best-Selling Cars: September 2012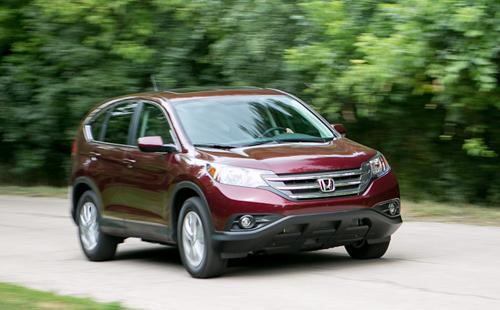 September was another strong month of car sales, making the automotive industry one of the sole bright spots of the economic recovery. With most major carmakers reporting, sales are up 13% year-over-year with 1.118 million vehicles sold, according to Automotive News.
That gain is healthy, especially considering that the average vehicle transaction price has also increased to $32,243 as compared to August's $32,181, according to CNW Marketing Research. Total incentives and discounts weren't appreciably higher as compared with last month, either. In fact, the only major seller to see significant incentive increases for the month was the 2012-13 Ford Focus, which has up to $2,000 cash-back offers currently. The Focus was up an astounding 91.4% year-over-year, which made it the 12th best-selling vehicle for the month.
With few incentives, most of the changes we see in the sales landscape for September are likely attributable to available supply of the models.
The automakers seeing the largest gains in September are the same ones that have exceeded the industry throughout 2012: Toyota (41.5%), Honda (30.9%) and Chrysler (11.5%).
Toyota and Honda's exceptional year-over-year showings is mostly a result of comparing healthy sales this September to those hurt by supply shortages from the March 2011 earthquake and tsunami that were still hampering the companies in September 2011. Toyota saw gains from mainstream models like Camry (+37.8%) and Prius (+103%) as well as new Lexus models like the redesigned ES (+80%), GS (+408%) and RX (+40.8%). Most of Honda's gains came from just two nameplates: the Accord (+56.6%) and Civic (+57%).
Chrysler remains the American comeback kid with a strong showing from the Ram pickup series; the Ram ascended from the bottom of the top 10 in August to middle of the pack in September, thanks to dealers trying to make way for the heavily revised 2013 models. The Dodge Grand Caravan (+32%), Dodge Avenger (+89%) and Jeep Grand Cherokee (+19%) also saw significant sales increases for September.
Ford (-0.1%), GM (1.5%) and Nissan (-1.1%) all saw marginal losses or gains in September; the three carmakers gained sales in 2011 due to the struggles of Honda and Toyota. Hyundai — another brand that saw its market share grow during that time — saw sales continue to climb at a healthy rate — 15.3% higher than September 2011.
Here are the top 10 sellers this month: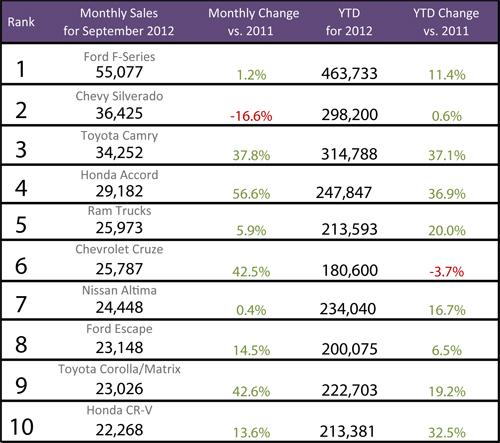 Related
Top 10 Best-Selling Cars: August 2012
See New-Car Incentives Near You
More Automotive News