Unexpected Family Car: 2012 Mini Cooper S Countryman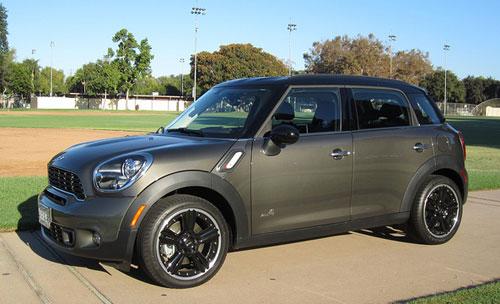 In our pre-baby days, the mister and I were the proud owners of a Mini Cooper. With its unmistakable styling, great gas mileage, and fun handling and overall drive experience, we each had our own reasons for loving it. Once it came time for a baby, we sadly decided to say goodbye to our Mini. Sure, lots of families make it work with a two-door vehicle, but it sounded like a drag to us.
Fast-forward two years and we're now a family of three. We still have to haul things around with us, but it's nothing like the infant era where you practically bring the entire house along with you. We've also reached two huge milestones: the forward-facing convertible car seat and the umbrella stroller!
It was a case of perfect timing that I got to test-drive a 2012 Mini Cooper S Countryman for a week. The Countryman scratched our Mini itch, but this time it was a nearly perfect family car.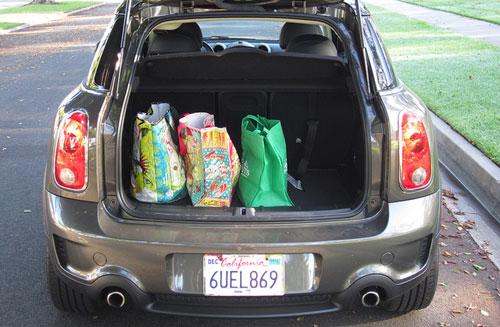 It took about a day and a half in the Countryman before my husband exclaimed, "Once your lease is up, we're getting one of these!" I had been thinking the same thing after only 90 minutes with it. My daughter squealed in glee each time she spotted "Mommy's car" in the parking lot.
While you cannot directly equate a Countryman to a Mini Cooper (I'll make this disclaimer now before the throes of Mini purists launch a full attack), the Countryman delivered just as much fun and individuality on the road for us as the Cooper did. It's similar to how the definition of "fun" differs from pre-baby to post-baby. Being able to enjoy tooling around town in a car with style, performance chops and ease when it comes to transporting our family is fun for us now. With the essential four doors, a bigger backseat and more cargo area, the Countryman became a reasonable — and exciting — candidate for our next family car.
Much to our delight, the Countryman's backseat accommodated our daughter's forward-facing convertible car seat without squishing my husband in the front passenger seat. I even drove another mom and toddler in this crossover, and two safety seats fit in the backseat without a problem. Take note, families of four.
Personally, the biggest difference I noticed between the Cooper and the Countryman was that the experience as a passenger was much more comfortable. Sure, it's all fun times when you're behind the wheel of a Mini Cooper, but when I used to ride in the passenger seat, I can't deny that it was a rough ride. It also was loud inside the cabin.
Inside the Countryman, it was just as pleasurable to be a passenger as it was to be the driver. It's quieter inside and much easier to have a conversation. As parents of a toddler, there's not much time for talk between my husband and me, and oftentimes, it's during the rides together that we get to really catch up. Our daughter is also at an age where she wants to talk to us, too, and the Countryman is cozy enough to enable some quality time inside — without feeling claustrophobic.
Smaller families shouldn't discount the Countryman because it's a smaller crossover. It can fit a small stroller (if you're still using one); it can transport a reasonable amount of stuff with the backseat folded, and there's extra storage underneath the cargo area floor if you need it.
But I won't lie: The Countryman enabled us to enjoy our time in the car as a family while still feeling connected to the couple we were, pre-kid. For us, that's a magical feeling. Happy parents equal happy kids, right? Well, that's what my husband and I like to tell ourselves anyway.
Related
2012 Mini Cooper S Countryman Review
Research the 2012 Mini Cooper
More Family News